By: Jordyn Robeck
Lisa came to Can Do Canines in search of an assistance dog that could live up to her previous companion, Judd. She wasn't ready for a new canine partner, yet admits, "That year without a dog was so hard. You have to learn to re-live."
Lisa uses a wheelchair, and the idea of independence is almost impossible for her. She says, "I was afraid to go anywhere."
After having two assistance dogs, Lisa knew how life-changing another dog could really be. She had loved Judd dearly and knew those were some big paws to fill. "I was hesitant because I had just lost him," Lisa explains, but she knew it was time to find another dog. After finding Can Do Canines, she took the next step.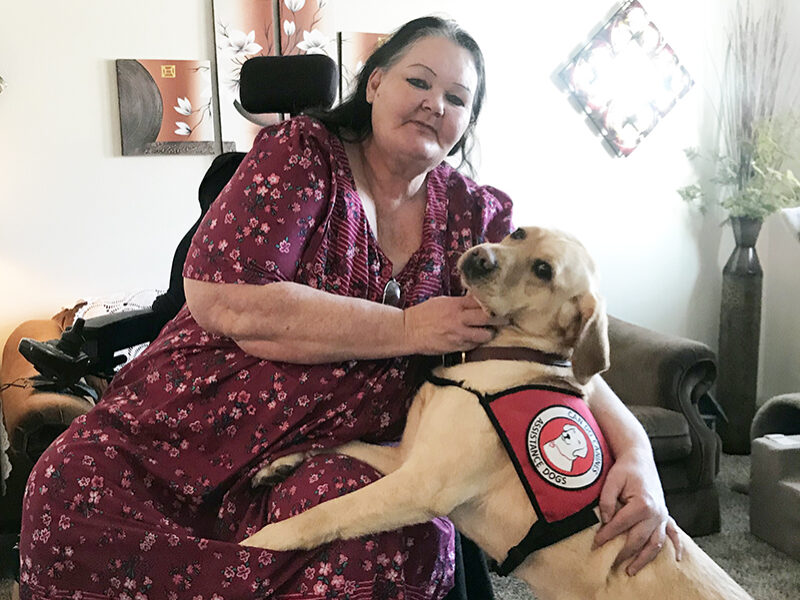 Meeting her Match
Lisa remembers meeting Mobility Assist Dog Flirt, a black Labrador Retriever for the first time. "I was just so excited to get another service dog," she says "I didn't want to be a shut-in hermit again, and I knew Flirt was my key to my freedom." Even though Lisa used to wonder if Flirt would "hold up" to her other service dog, Flirt eased all of Lisa's fears. "She's smart all by herself," Lisa says, and the team quickly saw success. "[Flirt] is becoming everything I'm hoping for."
Happy to Help
When describing Flirt, Lisa says "She's a fun, loving, sweetheart…[and] always wants to help." From assisting Lisa with taking off her shoes and socks, turning the lights on and off, getting and carrying things for Lisa, bringing her medicine after seizure activity, and getting help when needed, Flirt is constantly trying to anticipate what she can do to help out next.
Flirt has started to anticipate what Lisa needs, and Lisa is excited to continue her journey with Flirt. "We're going to be in sync," she says. The connection between them is already undeniable, and Lisa explains how Flirt is making such a difference. "She gave me my life back," Lisa comments. With the help of Flirt, Lisa is much more independent and is able to go out without the fear of embarrassment. She has the confidence to be out by herself.
When looking into her and Flirt's future, Lisa says she can't wait. "We're gonna go cruising," says Lisa, opening up about her plans for when her van is accessible to her. "We're gonna take a trip together, just me and her." Lisa is eager to get out and explore with Flirt, knowing that she will have the help she needs without the fears she had when she was alone.
To all those who donated to Can Do Canines, she says, "Thank you, because without your support and you doing this, I wouldn't have Flirt." She also wants to acknowledge all those who take part in the process, from the trainers and volunteers, to the donors and everyone else who makes it possible. "No words can express my gratitude."
Thank you to all those who made this partnership possible:
Great Start Home: Amy O'Keefe
Puppy Raiser: Jackson Correctional Institution
Special Thanks: Stephen Todey & Jennifer Anderson, The Merkel family
You: Thank you for your donations!