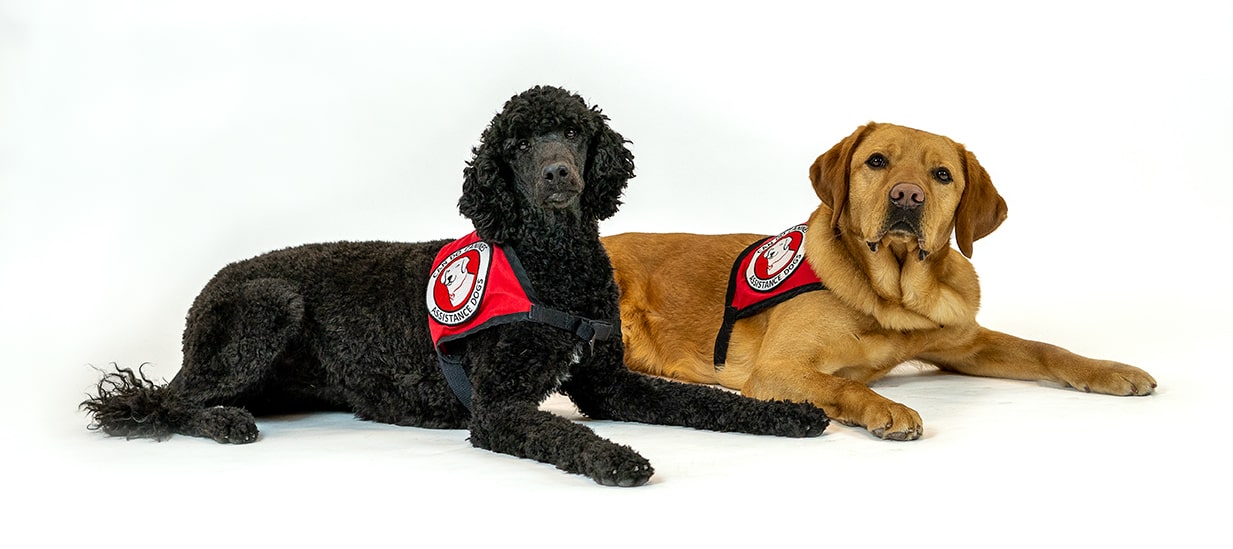 Mission
Can Do Canines is dedicated to enhancing the quality of life for people with disabilities by creating mutually beneficial partnerships with specially trained dogs.
Vision
We envision a world where people with disabilities live free and independent lives.
Values
Commitment to Clients
We exist because of our clients - we listen to them, understand their needs and make it easy for them to work with us.
Respect for People
We believe in the value of every individual and celebrate our different backgrounds, experiences and opinions.
Respect for Dogs
Dogs are our partners and their well-being must never be compromised to benefit people.
Integrity
We keep our promises and are always honest, ethical and fair.
Innovation
We take risks, challenge the status quo and embrace boldness and change.
Teamwork
As a team - staff, clients, volunteers and supporters - we care for each other, support each other and have fun together.

Since 1989, Can Do Canines has provided assistance dogs to people with disabilities, free of charge. Our fully-trained dogs, sometimes adopted from local animal shelters, are provided to clients with mobility challenges, hearing loss or deafness, seizure disorders, diabetes complicated by hypoglycemia unawareness or children with autism. Learn more and read a full history of our organization.
Can Do Canines is located in New Hope, Minnesota. Take a virtual tour of our campus.
Can Do Canines is the largest provider of assistance dogs in Minnesota and relies on individual contributions to support its important work. Currently, we place dogs for clients in both Minnesota and Wisconsin. Can Do Canines is one of only two Minnesota-based assistance dog organizations that is an accredited member of Assistance Dogs International. Read about all of our accreditations.
A defining characteristic of Can Do Canines is our commitment to find new ways for assistance dogs to help individuals with disabilities. Our thinking-outside-the-box philosophy can be seen through a variety of innovations. Can Do Canines pioneered the training of assistance dogs to detect low glucose levels for people with type I diabetes, and Can Do Canines was one of the first organizations in the country to train a Seizure Assist Dog to interact with a Vagus Nerve Stimulator (VNS), a device implanted in the chest of an individual to help control seizures.
Learn about our plans for the future by reviewing our Strategic Plan.
Financial Information
You can find detailed financial information about Can Do Canines, including our Annual Report, 990 and audited financial documents. View financial information.