Can Do Canines partners with seven prisons in Minnesota and Wisconsin to operate prison puppy programs. Specially selected inmates are assigned to each dog, allowing us to expand our program and serve more people in the community.
Current prison partnerships include:
Federal Correctional Institution - Waseca (MN)
Federal Prison Camp - Duluth (MN)
Federal Correctional Institution - Sandstone (MN)
Federal Medical Center - Rochester (MN)
Stanley Correctional Institution (WI)
Chippewa Valley Correctional (WI)
Jackson Correctional Facility (WI)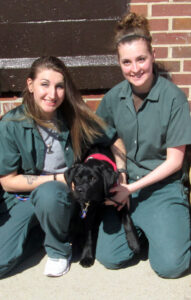 Each of these facilities usually takes between five and 20 puppies at one time. A Can Do Canines staff member makes regular visits to each prison to instruct the inmate handlers how to work with the dogs. As the warden at Jackson Correctional Institution states, "It gives the handlers a purpose." These people working with the dogs often speak of increased empathy, confidence and patience. At the same time, the dogs are well-cared for and receive round-the-clock attention and training.
Check out this video to see first-hand the many benefits of our Prison Puppy Program.