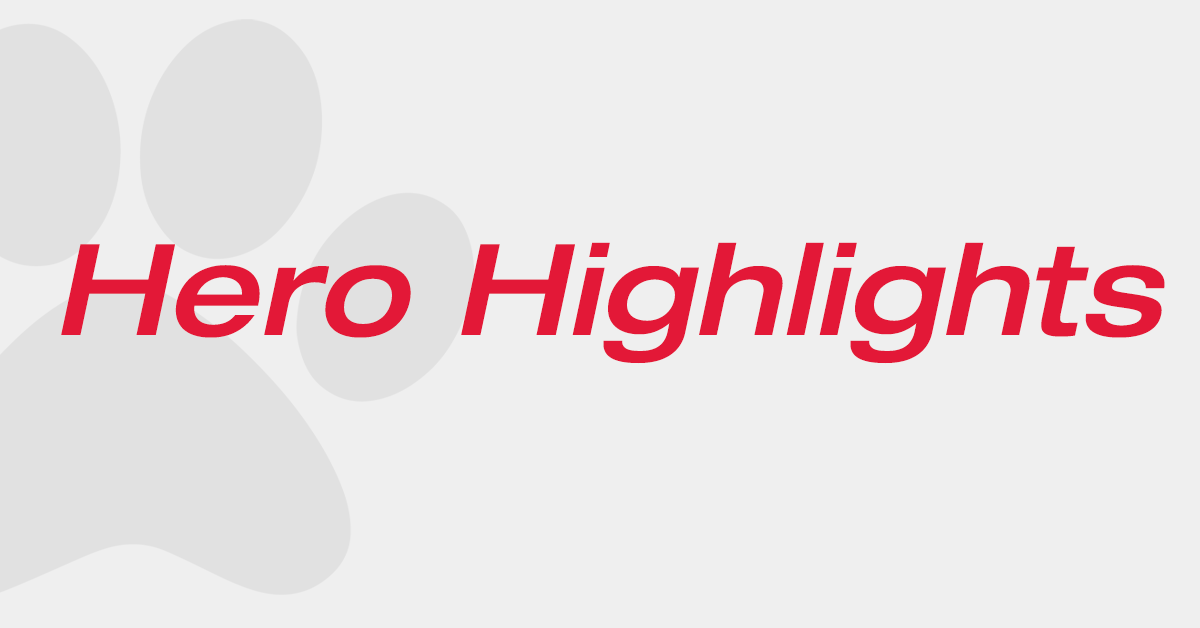 We love when graduates share the latest and greatest ways their Can Do Canine has made a difference in their life, or maybe just brought some form of cheer! Check out these brief updates from some of our teams.
Lori & Mobility Assist Dog Frisco
Frisco has always been amazing. But most recently I had fallen and had broken my wrist. I didn't have a cell phone by me and if I would have screamed nobody was gonna hear me. So what did I do? I called for Frisco. I said Frisco, "Get help," and that's exactly what he did. He ran over to the hook that has an emergency button hung on it. He grabbed it, he pulled it off the hook and brought it right to me. I was able to hit the button and call an ambulance. Frisco is my Can Do Hero.
Roger & Mobility Assist Dog Whitney
For whatever reason when I retire at night, Whitney likes to take one of my socks for a walk around the house; takes it to bed and brings it back to me in the morning.
Amy & Mobility Assist Dog Mosby
Something I was watching on TV triggered an episode of severe and unexpected anxiety, and I was struggling to calm myself. Mosby (without prompting) rose from where he'd been laying, jumped into my lap in the recliner, laid down, and pressed his full body weight and warmth on me like a blanket until my heart rate and breathing slowed again. He stayed with me in the chair until the anxiety passed. He was not trained to do that to my knowledge, but he knew exactly what I needed. I was grateful to the point of tears.
Julie & Hearing Assist Dog Skye
Skye provided assurance and security for a few nights last January when my husband was isolating with COVID in the basement. She woke me without fail when my alarm went off during the nights so I could get up to check on him. I also slept peacefully knowing that if there were any fire or carbon monoxide alarm, midnight phone call or unwanted intruder, she would alert me to those sounds too. Thank you, Skye, and Can Do Canines!
Jeremy & Mobility Assist Dog Pria
Pria is focused on every move I make and so in tune with my daily routines. In the year I've had her, I haven't had to go to my neighbors once to have them get me something I've dropped. Before Pria, I'd regularly have to do that. I no longer worry about dropping things anymore and therefore feel so much more independent than I did before her!
Maureen & Mobility Assist Dog Walter
I dropped a measuring spoon the other day and called Walter to retrieve it which he did. I'm totally blind. Walter was staying near me not running back to his favorite spot watching out the front door after he picked it up then started nudging me with his nose. I put out my hand and he handed me a second measuring spoon, which I didn't realize was on the floor. He knows what needs to be picked up!
Kara & Mobility Assist Dog Fabian
Just a few days ago I sustained an injury related to my illness and am wheelchair bound for 8-12 weeks. I haven't needed to use my wheelchair much until now and [Fabian] doesn't miss a beat. He's used to my walker but he transitioned easily with the wheelchair and has been a godsend while the kids are at school. Normally an injury like this would have me panicked and with Fabian I don't feel that. I feel confident in his skills and know that this time will fly and I don't have to fret when this pops up again. We can tackle these setbacks and Fabian will be with me every step of the way til I'm back to my walker!
Lisa & Mobility Assist Dog Flirt
I fell out of my wheelchair. I was home alone. Flirt brought me my pills and some water. I thought she was confused, but then just not too long afterward I started feeling those headaches I get prior to a seizure. Flirt hit the help button [and] help came and got me off the floor. I had a seizure not too long afterwards. I have complete confidence in her now more than ever. Thank you can do canines for my awesome hero in flirt.