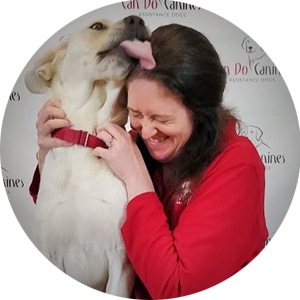 I oversee everything to do with the dogs and with clients/graduates. The majority of my job is managing the staff that handle the day-to-day decisions and functions of our program.
I live in a small town west of Minnetonka with my fiance, Jay, and our two small dogs. Jay owns a small business, so any extra time I have is spent helping out there or with my home remodel.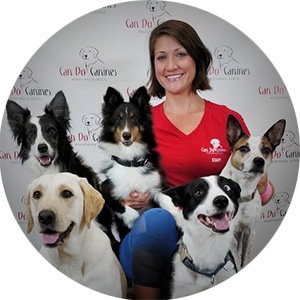 My day-to-day is spent helping our staff, volunteers, and program dogs navigate successfully through our training program. I'm so proud to work here and to see Puppy Program improve and grow every day. The best part of my position is seeing dogs go from puppies to their full potential.
I am also a volunteer with Can Do Canines and have had many dogs as a foster, so for the volunteers out there, I GET IT!
In addition to program dogs, I also have three dogs of my own. We compete in agility, obedience, and herding.
I joined Can Do Canines in June 2022. I got my start in the field of dog training specializing in helping dogs overcome severe behavioral issues. Working with future assistance dogs has been a welcome shift in focus; I absolutely love seeing all of these confident and happy puppies and can't wait to watch them grow up to become fabulous partners to the clients that rely upon them. I look forward to helping bring out the inner dog trainer in all of our amazing volunteers!
I currently live with my 9-year-old Mini Aussie/terrier foster-fail named Ripley who enjoys getting snacks at the office and learning that not all people and places are scary!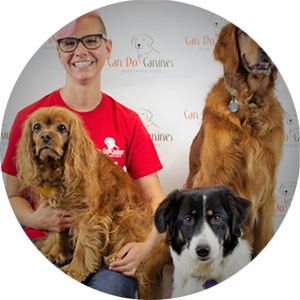 With a background in obedience and agility instruction, I love watching dog and handler teams learn and grow in their skills and experience. A master dog trainer lives inside every volunteer - helping them to raise and train capable, confident, and enthusiastic dogs is my jam. Seeing each dog's skills and strengths matched and tailored to meet their client's needs is absolutely the icing on the cake. It's all about the journey!
I currently share my home with 3 resident dogs, a rotation of program dogs, one cat, and a very patient and animal tolerant husband. In my spare time I enjoy training and competing with my personal dogs in agility, rally obedience, disc, and just about anything that the dogs find fun and strengthens our bond. In between time spent with dogs, I also love to travel.
I assist with overseeing veterinary care for the program dogs. I am here if there are any medical issues that come up and to keep every dog healthy with scheduled exams and vaccines.
I spend the majority of my free time running around after 2 young kids, a large old Great Dane, and our cute chickens.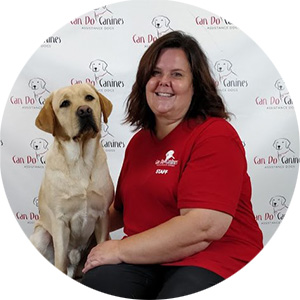 Having made my living in dogs for the last 30 years, working for Can Do Canines has been the most soul fulfilling thing I have done. I run the prison programs at our three prisons in WI. It is amazing to watch the amount of lives these dogs touch and make a difference in others lives while moving along their paths to become super heroes. I am honored and humbled to be part of it. I live in Eau Claire WI, where when I'm not working with dogs, you may find me with a hammer, rolling pin or camera in my hand.