Can Do Canines Hearing Assist Dogs are taught to alert a person who is deaf or hard of hearing to sounds by making physical contact with them. A hearing service dog will paw or nose nudge their human partner when certain sounds occur, and then lead them to the source of the sound. Some of the sounds the dogs may be trained to alert to include:
a door knock or doorbell
an oven timer
a smoke detector
an alarm clock
their handler's being called
a phone ringing
a baby crying
a dropped item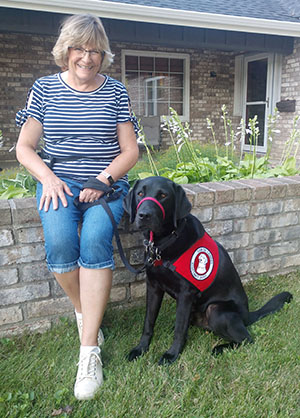 General Criteria for Hearing Assist Dog Applicants:
Must be a resident of Minnesota or Wisconsin
Must be deaf or have a severe to profound hearing loss
Must be physically and financially able to take full responsibility for the dog after certification
Must be at least 18 years old
Must not currently own a dog unless applying to owner-train their pet
Click on the image below to watch a video about our Hearing Assist Teams.