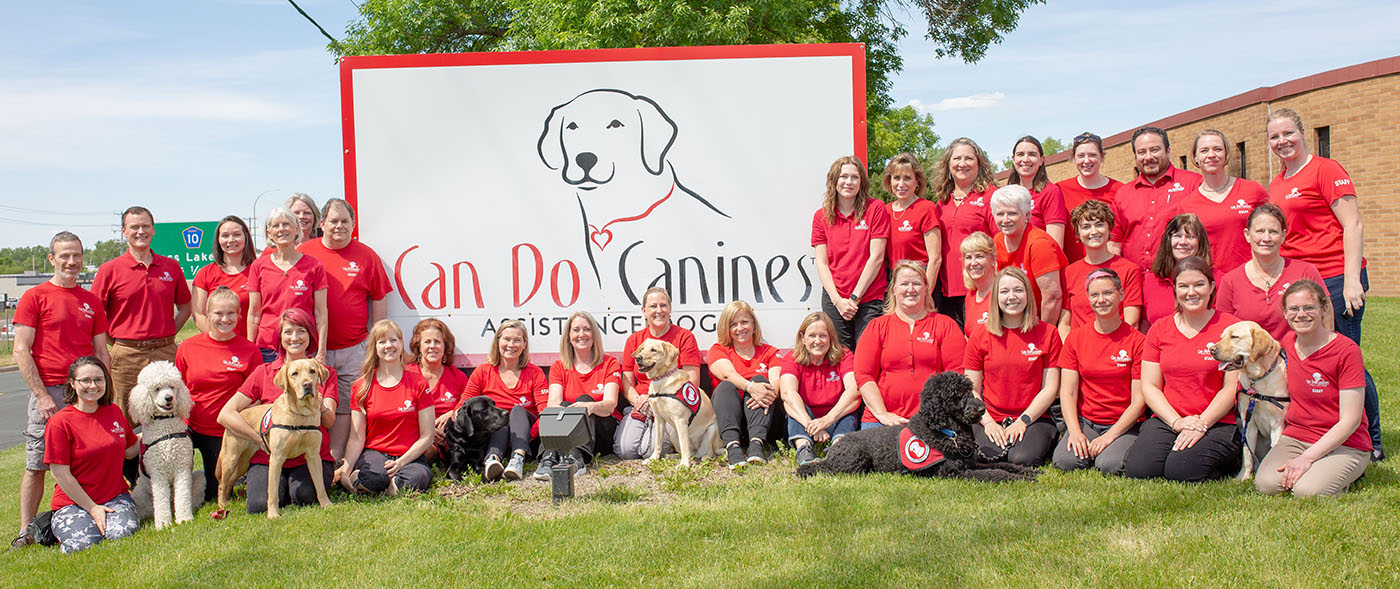 LEADERSHIP
Executive Director – Jeff Johnson – ext. 116
DEVELOPMENT
Development Director – Janet Cobus – ext. 153
Development Manager – Sheila Ross – ext. 182
Development and Communication Associate – (Open)
Development Assistant – Kathy Broten – ext. 152
Donor Relations Officer – Deb Tweten – ext. 154
Event Coordinator – Melissa Herman – ext. 115
MARKETING AND COMMUNICATION
Marketing and Communication Manager – Caren Hansen – ext. 161
Marketing and Communication Specialist – Robyn R.
OPERATIONS
Director of Operations – Luke Matusovic – ext. 158
Administrative Assistant/Receptionist – Linda Wicklund – ext. 114
Technology Manager – Peter Tatikian – ext. 151
Volunteer and Outreach Coordinator – Laurie Carlson – ext. 113
Volunteer and Outreach Coordinator – Caitie McBride – ext. 120
PROGRAMS/TRAINING
Director of Training – Julianne Larsen – ext. 117
Prison Program Coordinator – Kaity McGinn – ext. 164
Prison Program Instructor – Dyan Larson
Breeding Coordinator – Karin Balgaard
Puppy Program
Training Manager – Shenna Lemche – ext. 165
Program Trainer – Emily H.
Program Trainer – Sharon G.
Program Trainer – Stacy S.
Puppy Program Instructor – Emily L.
Puppy Program Instructor – Lindy L.
Puppy Program Specialist – Casey O.
Client Services
Client Services Manager – Denise Yokom – ext. 122
Client Services Assistant – Cari Bishop – ext. 157
Client Services Coordinator – Elizabeth R.
Client Services Coordinator – Jenny B.
Client Services Coordinator – Jennifer G.
Kennel Staff
Kennel Manager – Katie Rickert
Assistant Kennel Manager – Pete Gellerup
Kennel Staff – Carolyn K.
Kennel Staff – Josie N.
Kennel Staff – Rebecca W.
Kennel Staff – Sam Q.
Executive Director – Jeff Johnson
Jeff began his career at Can Do Canines at the end of 2020.
As an active and mission driven community leader, Jeff has held numerous leadership positions at organizations including Northwest Twin Cities Young Life, Community Action Partnership of Hennepin County, and Governor's Workforce Development Council. Jeff is the author of two books on positive family, personal and professional relationships.
In 2020, he collaborated to launch the nonprofit organization, "Northstar Neighbor," which existed to spread a message of hope and compassion by serving our neighbors who are at higher risk of COVID-19 complications.
Jeff also has a long history of civic leadership. He served as a Minnesota State Representative, Hennepin County Commissioner and was twice a Gubernatorial Candidate for the State of Minnesota. Jeff is also the founder of Midwest Employment Resources, a law practice focused on human resource topics. He holds a JD degree from Georgetown University Law Center and is licensed to practice law in Minnesota and Illinois.
Founder – Alan M. Peters
Alan M. Peters founded Can Do Canines in 1987 and served as executive director of the organization until retiring at the end of 2020. Under his leadership, the organization grew from an interesting idea to an industry-leading organization with 40 staff members. Can Do Canines has placed more than 750 fully trained, life-changing and life-saving assistance dogs into the community, all at no cost to their clients with disabilities.
Organizational achievements during his leadership:
Purchased and rebuilt a 25,000-square-foot, four-acre commercial property creating a permanent home for the organization, including kennels for a maximum of 50 dogs.
Completed a $4.4 million dollar capital campaign to pay for the project, creating a debt-free organization. The campaign included negotiating a $1 million dollar+ lead gift.
Qualified and maintained Can Do Canines as a fully accredited member of our trade association, Assistance Dogs International, beginning in 2007.
Awards to Can Do Canines under his leadership: Minnesota Council of Nonprofits—1992, the Minnesota State Council on Disability—1992, the Minnesota Corrections Association—2009, The Arc of Minnesota—2008, and the Commission of Deaf, DeafBlind and Hard of Hearing Minnesotans—2009.
Can Do Canines Board of Directors
Mitch Peterson, President
Dianne Ward, Vice President
Ross Thorfinnson, Jr., Treasurer
Ann Curme Shaw, Secretary
Andrew Brust
Kevin Florence
Scott Thomas-Forss
Elizabeth Grey
Kathryn Hoy
Sharon Hughes
Beth Klingelhofer
Steven Novotny
Connie Roehrich
Judy Sharken Simon