The Americans with Disabilities Act
The Americans with Disabilities Act (ADA) is a federal civil rights law that prohibits discrimination based on disability in the areas of:
Employment,
State and Local Government,
Public Accommodations,
Commercial Facilities,
Transportation,
Telecommunications.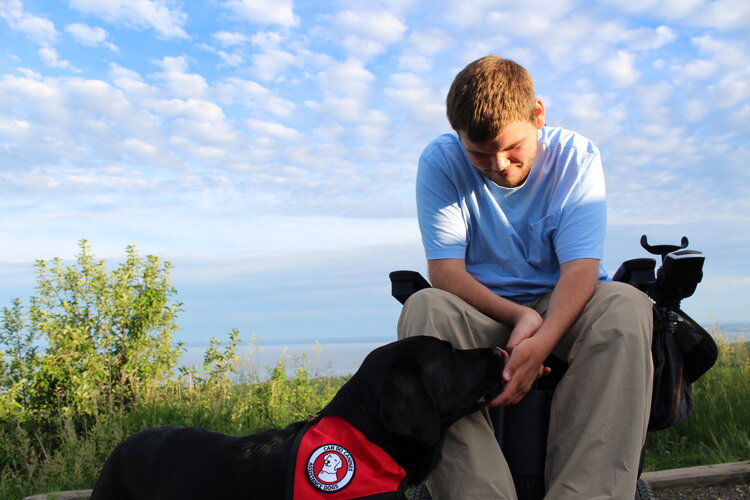 The ADA ensures accessibility, inclusion and equality to those with disabilities, as well as guidance to the covered businesses, governments and nonprofit organizations serving the general public who are required to uphold the ADA. These covered entities must make "reasonable modifications" to their policies, practices, or procedures when necessary to accommodate people with disabilities.
Assistance dogs (like those provided by Can Do Canines) are specially trained to perform tasks for their handlers to mitigate their disability. For the purposes of ADA interpretation, they are considered a "medical device" similar to cochlear implants, a powerchair or a blood glucose meter. As with other devices, in order to provide aid, assistance dogs must generally accompany their handler. What this means for our clients is that their assistance dogs are legally allowed to accompany them into most public places, such as their place of employment, favorite grocery store, the corner restaurant or onto the metro bus. We call this right "public access."
Because assistance dogs are a living, breathing medical device, there are a few rules surrounding public access with a dog meant to protect covered entities. If these rules are violated, the handler may be asked to remove the dog by the entity.
Assistance dogs must be under the control of their handler at all times. This means the dog is not causing a disruption, wandering from the handler or barking.

The presence of an assistance dog may not "fundamentally alter" the nature of the goods, services, programs, or activities provided to the public. Its presence may also not override legitimate safety concerns. These are rarely occurring reasons for exclusion.

Handlers are also responsible for the care of their assistance dog and being mindful of sanitary concerns.
This list is short, and it's meant to be. The goal is to keep the dog aiding their handler as much as possible! It's important to known that factors such as a fear of dogs or claim of allergies are NOT sufficient reasons for requesting the removal of a dog.
Covered entities are allowed to verify that a handler is accompanied by an assistance dog by asking the following questions (and only these questions!):
Is this your trained assistance dog?

What work or tasks is the dog trained to do to mitigate your disability?
These entities are NOT allowed to require any form of written registration or other "proof" of the legitimacy of an assistance dog.
The ADA and "public access" are far-reaching. There are some exceptions, a few of which may be surprising. Despite being a federal regulation, the ADA does not extend to federal buildings or agencies. Commercial airlines are covered under a different regulation. Places of worship, private properties and reservations are also not covered entities under the ADA. Plan to call ahead to verify that an assistance dog will be allowed within a non-covered entity.
Ready to learn more? Have questions? Check out these links for specific details!
The ADA is a federal law; there are other relevant regulations determined by our local governments. While state and local laws may ADD rights on top of those provided by the ADA, they may not REMOVE rights. The regulation (state or federal) that is more favorable to the individual will be the one upheld, when they are different.