Raising an assistance dog isn't the only way to support our cause. Campus volunteers help with events, data entry, dog walking, and more! Volunteer needs vary throughout the year. In most cases, campus volunteers must be 18 years of age or older, although age 16 is the minimum for some events. Please review the opportunities below.
Step 1: Review our Opportunities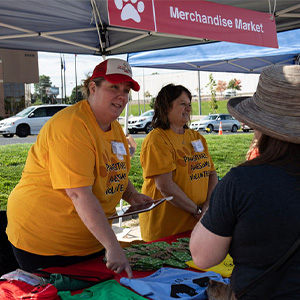 Whether greeting guests, running a game, or helping with tear-down, we couldn't do it without our amazing event crew. We host three major fundraisers a year: Fetching Ball Gala, Tails of Independence Luncheon, and Can Do Woofaroo. We also celebrate client graduation in February, June, and October and have quarterly open houses. Responsibilities vary at each event.
Accepting applications.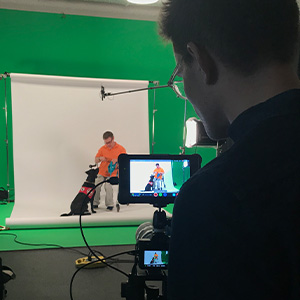 Marketing and Communication
If you're more of the creative type, we are always seeking talented individuals to assist with creative projects. These projects include video production, article writing, and photography. If you have experience in these or any other creative fields, we'd love to have you!
Not accepting applications at this time.
For clients who are deaf or hard of hearing, volunteer ASL interpreters provide interpretation during training sessions and at public events. Interpreters must be professionally certified when signing for large groups. Certification is not required for one-on-one settings; however, interpreters must be fluent in ASL.
Accepting applications. 
Help us stay organized and efficient! Administrative volunteers provide office support such as filing, data entry, filling in at the front desk, and making phone calls. Administrative volunteers typically volunteer within our regular business hours of Monday-Friday, between 8 a.m. and 4 p.m.
Not accepting applications at this time.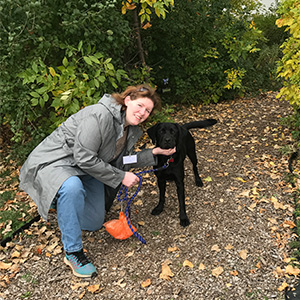 Want to get your doggy fix? We utilize volunteers to help exercise dogs early afternoons, Monday through Friday. The time commitment is one shift per week (approximately two hours each) for a minimum of three months. You can be the face the dogs look forward to seeing!
Not accepting applications at this time.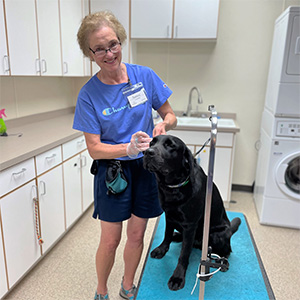 Help keep our dogs on campus feeling fresh! Experienced dog groomers assist with grooming tasks such as brushing, ear cleaning, nail trims, and "happy handling" desensitization. The time commitment is one two-hour, early-afternoon shift per week, Monday through Friday.
Not accepting applications at this time.
Calling all road trip lovers!  Transport volunteers drive dogs to and from our partner prisons in Minnesota and Wisconsin in our transport van, with occasional opportunities for long-distance transport trips. Since transports aren't on a regular schedule, we are looking for volunteers with flexible schedules to fulfill this role.
Accepting applications.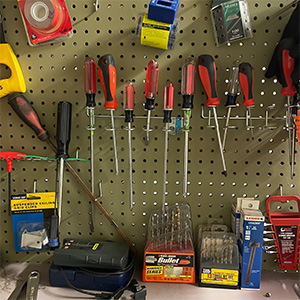 Maintenance, Cleaning and Repair
Like to fix things? Consider using your skills to keep our facility in tip-top shape by helping with general maintenance, repair, and cleaning projects.
Not accepting applications at this time.
Volunteers who are experienced with sewing assist with cape alterations and other sewing projects from the comfort of their own home. Volunteers must have their own sewing machine and be able to perform alterations with a variety materials. Projects are available sporadically as needed.
Not accepting applications at this time.
Help spread the word about Can Do Canines and join our team of booth and tabling volunteers. We provide training beforehand that teaches you how to best speak about our organization and the work we do.
Not accepting applications at this time.
Step 2: Complete an Application
You've read through the various ways to get involved and you're ready to dive in—that's great! Please complete an online application, and we will be in contact with you within a week to schedule an informational phone call. This is a great time to ask any questions you have about the volunteer program, as well as an opportunity for us to get to know you more.