Julianne Larsen, Director of Training
I oversee everything to do with the dogs and with clients/graduates. The majority of my job is managing the staff that handle the day-to day-decisions and functions of our program.
I live in a small town west of Minnetonka with my fiance, Jay, and our two small dogs. Jay owns a small business so any extra time I have is spent helping out with there or with my home remodel.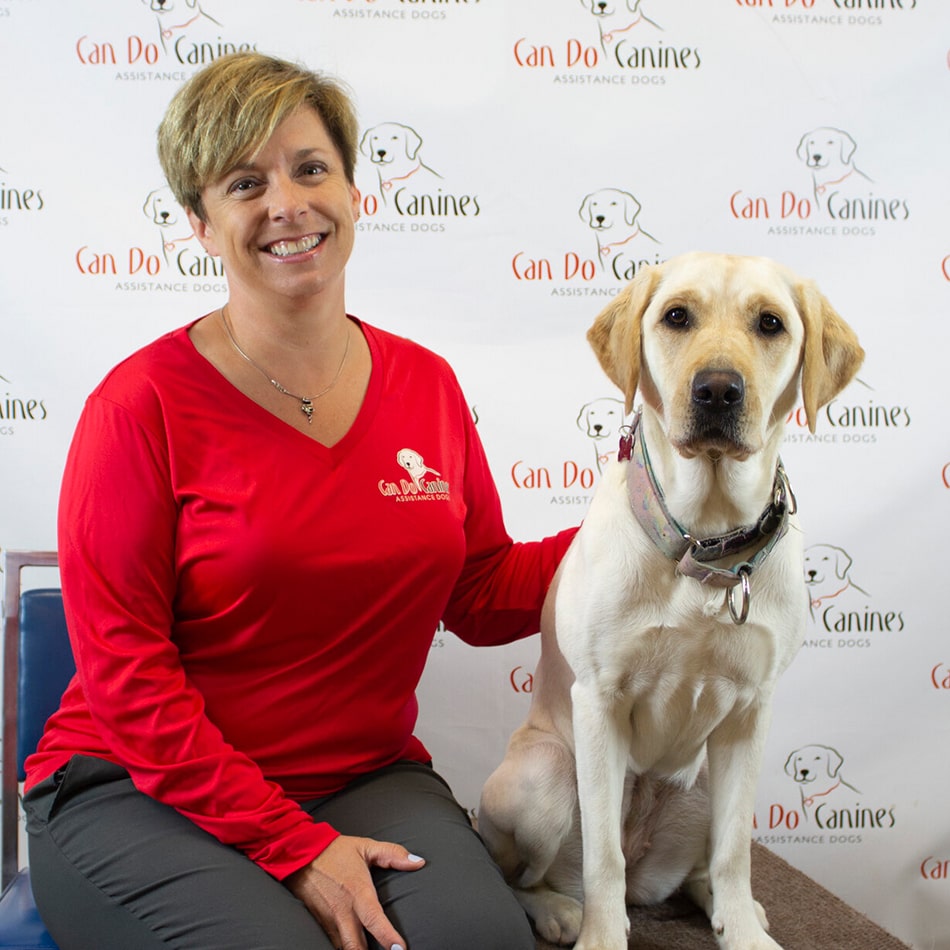 Denise Yokom, Client Services Manager
I started in Client Services June of 2019 after being convinced that my backgrounds in health care and dog training could be molded into one new career. My position is really a great mix of getting to know potential clients and their vision of life with an assistance dog, and then helping those approved applicants learn how to best work with their matched assistance dog to become a great working team. My day may also consist of follow-up with previous graduate teams and talking with our amazing kennel and training staff to get to know the dogs in our program.
In my spare time, you most likely will find me watching club or high school soccer, or I've broken away from family life for a weekend of dog agility with my 2-legged and 4-legged friends.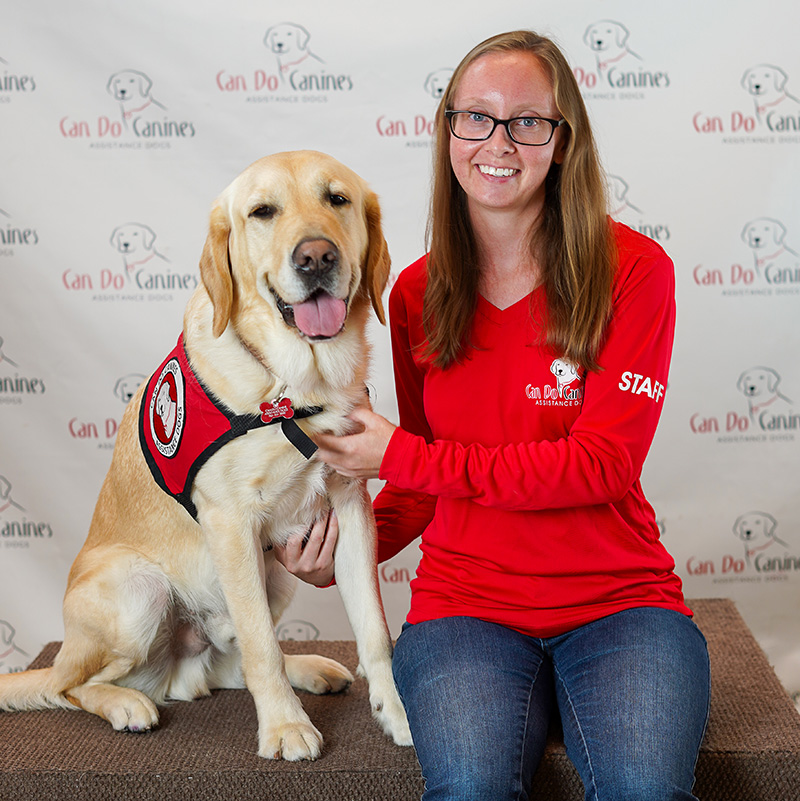 Jennifer Gravrok, Client Services Coordinator
Jen Gravrok comes to Can Do Canines after working as the client services specialist at Eyes Ears Nose and Paws in Chapel Hill, NC. EENP is a small organization that places dogs for mobility and medical alert, primarily for diabetes and seizures. Prior to that, she completed her PhD in Psychology and Public Health at LaTrobe University in Australia, where she studied anthrozoology. Her PhD attempted to better understand the benefits and challenges that first-time assistance dog handlers experience when acquiring an assistance dog. She worked closely with various Australian assistance dog organizations to produce many peer-reviewed scientific publications and volunteered as a puppy raiser with Seeing Eye Dogs Australia.
Outside of work, she likes to travel and be outdoors including camping, kayaking, hiking and rock climbing.
Elizabeth Reberk, Client Services Coordinator
As a Client Services Coordinator, a few key things I do include interviewing prospective clients, training clients with their dogs, instructing group classes, and providing graduate support. Over ten years ago I got involved with Can Do Canines as a field trainer for clients residing outside of the metro area; now I am a full-time CSC and volunteer with the puppy program as well. I am passionate about providing dogs with a career and seeing special partnerships come together for the benefit of all.
My personal dogs are Newfoundlands, and I enjoy training with them for a variety of activities. Pretty much our home is always busy with dogs--whether foster dogs or visiting dogs of family and friends.
Jenny Brisson, Client Services Coordinator
In my role as a Client Services Coordinator, I will interview prospective clients, work closely with our Training Team to match a client with an assistance dog that specializes in working in that particular disability, lead matched team training and provide support to graduated teams.
I have been involved with Can Do Canines since 2011. My background includes assistance dogs, professional dog training and in-home board and training. My passion for helping people and knowing the gifts that dogs can provide to a person is realized in my role as a Client Services Coordinator.
I live with my husband, two children, two dogs and four fish. I enjoy birding, gardening, cooking, reading, hiking, traveling, exercise and of course, activities with my dogs.
Cari Bishop, Client Services Assistant
I am one of the first contacts here to answer questions from potential applicants and others wanting information about service dogs. I handle client paperwork things: create and maintain client files, gather all pertinent information prior to interviews; process yearly client surveys, vet reports and ID cards. I also help with preparation of orientations, classes, graduations and other client-based events. I love hearing stories from clients about how their assistance dogs have changed their lives.
When I'm not at work, I am a fitness instructor, wannabe gardener, and a gymnastics and violin mom. I live nearby with my husband, two daughters, two guinea pigs and a dog who thinks she's a cat.