Jackson Correctional Institution (JCI) in Black River Falls, WI, partners with Can Do Canines to help raise and train future assistance dogs.
Two carefully chosen inmates are assigned to each of our puppies. Together, the inmates provide round-the-clock care for the puppy, as well as basic obedience training and basic assistance dog training, such as opening doors and retrieving items.
As important as this Prison Program experience is for the puppies, it is also crucial that they learn good house manners and get exposed to as many social and public situations as possible during their first, formative year. Dog host volunteers are asked to review and work on house manners, go on walks in a neighborhood, and socialize the puppy to things they would not encounter in prison. Examples are household noises, like dishwashers, vacuums, other pets, and children.
Dog Hosting Opportunities with Jackson Correctional Institution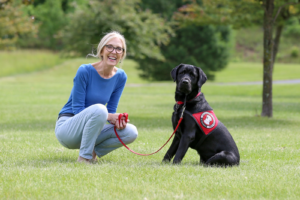 Home Stay Hosts
These volunteers work with a dog for a two-week timeframe—either a Monday-to-Monday or a Friday-to-Friday. Pickup and drop-off are handled on prison grounds. Volunteers take the puppy in public to locations such as a grocery store, shopping mall, auto store, library and more.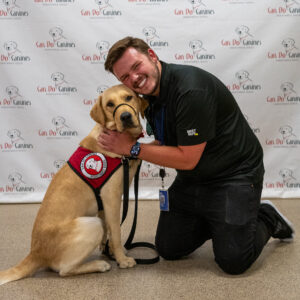 Foster Requirements
Must be 18 or older
Must live in Western WI
Must be willing to travel to Black River Falls, WI
Intact dogs, fostering with other organizations, and un-fenced yards are all allowed. Review a list of other frequently asked questions on our FAQ page.
Apply to Volunteer
Complete an online application found here to get started. A staff member will be in contact with you soon regarding your application.
Have questions?
Our Puppy Program team would be happy to talk with you. Please email our team at puppyprogram@candocanines.org or call 763-331-3000.