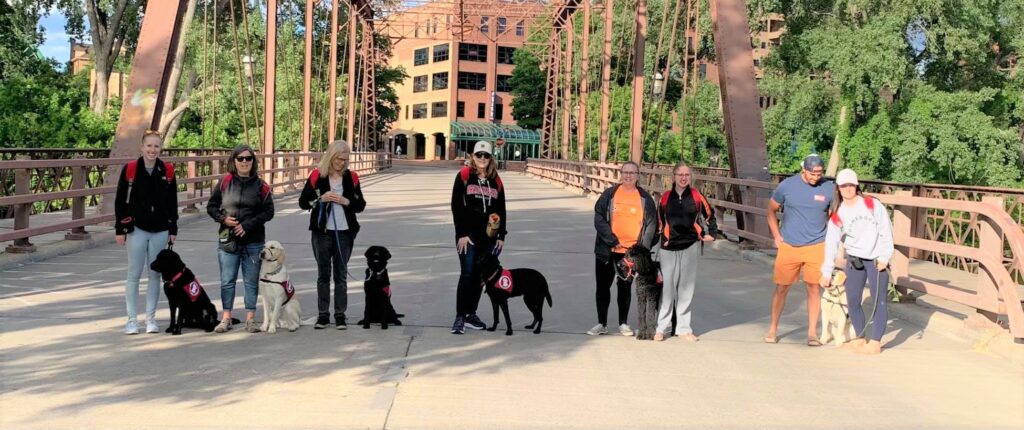 Foster volunteers are the heart and soul of what we do and have a major impact on the life of the person who will eventually receive the dog. We provide knowledgeable training staff supporting you, dog food, basic vet care and lots of training opportunities. You provide a loving home and basic dog supplies while taking the dog in public and to trainings as specified by your role.
We are currently accepting applications for Puppy Raiers, Great Start Homes, Prison Break Fosters and Weekend Prison Sitters. More information about these roles is listed below.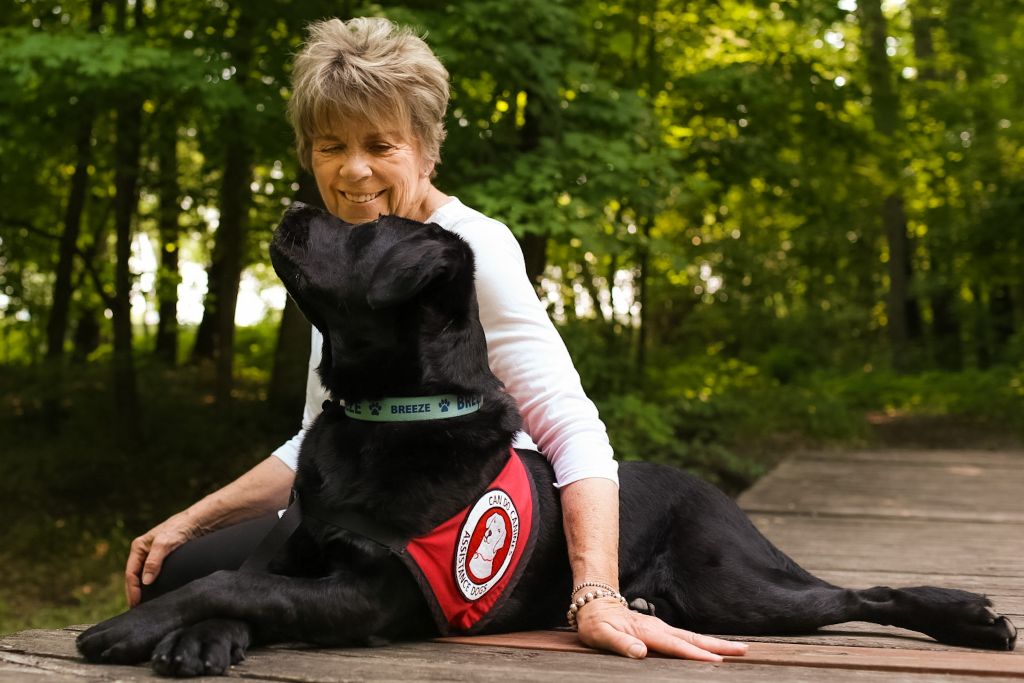 A Puppy Raiser takes a future assistance dog into their home for 18-24 months, typically from the time the puppy leaves the weaning prison at 10 weeks old until they are ready to enter final training at 18-24 months of age. They are asked to take the puppy on public outings three times a week and bring the puppy to one training opportunity a month.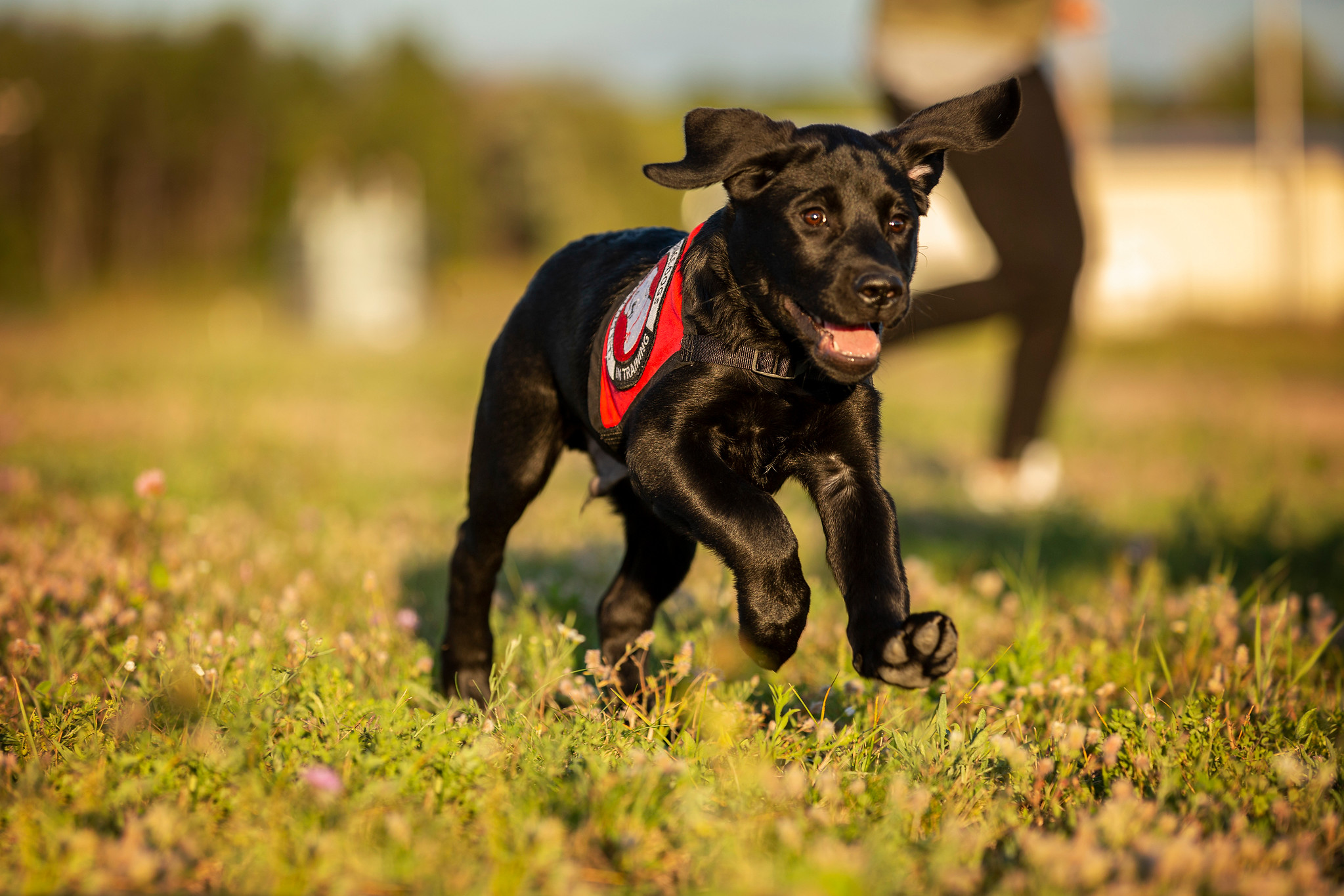 After our puppies have been weaned, those bound for our puppy raising prisons will first need to go to a Great Start Home. Great Start Homes are fosters that take in a 10 week old puppy for 2-3 months to begin early socialization, basic obedience and potty and crate training. They are asked to take the puppy on short public outings three times a week and bring the puppy to one training opportunity a month.
We operate puppy training programs in seven local prisons and three of them have outside fosters support the program. They include Waseca, MN; Stanley, WI; and Black River Falls, WI. Two carefully chosen inmates are assigned to each of our puppies, providing round-the-clock care for the puppy as well as basic obedience and assistance dog training. As important as it is for inmates to train the puppies, it is also crucial that puppies learn good house manners and get exposed to as many social and public situations as possible during their first, formative year. Prison fosters make this possible. We currently have two prison fostering opportunities:
Prison Break Fosters - These volunteers work with a dog for a two-week timeframe—either a Monday-to-Monday or a Friday-to-Friday. Pick up and drop off is handled on prison grounds. Volunteers take the puppy in public to locations such as a grocery store, shopping, mall, auto store, library and more.
Weekend Prison Sitters - These volunteers commit to taking a dog twice a month. Pick up and drop off is handled on prison grounds by the volunteer and a prison employee at the main entrance. Must be available to pick up from the prison on Fridays and drop off on Mondays. Sitters do not take the dog in public.
Steps to Apply
You've read through the various ways to get involved and you're ready to dive in—that's great! Here are the next steps to officially apply. Please note that a submitted application does not guarantee acceptance into the program—that is decided upon review and home visit.
Step 1.
Fill out the online application linked above
Step 2.
Complete the virtual Puppy Program Orientation
Step 3.
Complete a home visit with a staff member or trained volunteer
Frequently Asked Questions
Do you need prior dog training experience to foster? What about a fenced yard? Can you have other pets in the home? What happens when you go on vacation? Visit out FAQ page below for answers to these and other common questions.
Don't fit the current criteria?
Please let us know you're interested in our program by completing the form below and we will connect with you once the program criteria changes.