Carl Osbourne of Roseville, Minn. believes in the symbiotic nature of the world around him–a mutual beneficial give and take between living things. A practicing veterinarian for over 50 years (and recipient of over 43 honors and awards), this fascination to help other species continues to drive his work as a professor and researcher at the University of Minnesota Veterinary Medical Center.
When discussing this appreciation for life Carl states, "If I was out in public and came across an ant, I would not step on it. But if a whole bunch of ants invaded my home … you better believe I would!"
This philosophy perfectly demonstrates Carl's tenacity and vigor. At the ripe age of 73 and with a Ph.D in Veterinary Medicine, he is still plowing ahead at full steam, despite having Parkinson's disease.
Diagnosed in 1995, the disease has affected Carl's muscle memory, balance and has created speech difficulties since he underwent brain surgery to combat the illness. Unable to walk on his own and using a wheelchair to get around, Carl has been determined to not let his disability stop him and to continue his quest to understand "the higher power in the relationship of life."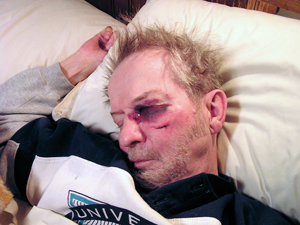 But in 2012, Carl began dropping things. Then he started falling out of his chair. Bruises were common. He fractured bones. Something was off in the symbiotic world Carl believed in. There was too much "taking"– not enough "giving." He needed help. He needed assistance.
"I didn't know anything about assistance dogs; not one single thing. But a librarian at the University of Minnesota went to an information session on Can Do Canines and brought me back an application. Her face seem to reflect that applying was not 'optional,'" Carl says.
So Carl applied and was soon matched with Mobility Assist Dog Chloe, a two year-old chocolate Labrador retriever. Chloe wasted no time becoming part of the family.
"I was dropping all kinds of things–medication, cash–Parkinson's changes everything. But Chloe instantly knew her job. She's the reason I'm able to keep working."
In addition to retrieving dropped items, like pencils or paper (Carl says he doesn't mind the slobber she also brings), Chloe is a constant companion. She has learned all the idiosyncrasies that go into Carl's day From helping him get out of bed in the morning to retrieving the phone (or Carl's wife Lynn!), Chloe is there.
"With Parkinson's disease there are good and there are bad days. But, Chloe hasn't left my side for over three years. Having an assistance dog is like being given another arm."
With his additional arm, Carl continues to share his knowledge and his passion for animals and to teach others the science of caring for them. Thanks to the freedom and independence Chloe provides, he's proceeded to pen hundreds of articles on veterinary medicine, including the four part series, "How do our clients recognize that we care?"
Combining his philosophy on life with his gratitude to donors for their support of Can Do Canines Carl states, "What we do for ourselves dies with us. What we do for other's lives on."
Can Do Canines wishes Carl and Chloe many years of "give and take" in their new life together.