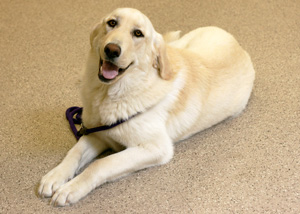 When a Can Do Canine doesn't quite work out as planned, we don't say the dog "wasn't the right fit" or "washed out;" we prefer to say the dog has had a "career change."
This was indeed the case for Avett, a 4 year-old Great Pyrenees mix. Despite learning at incredible speeds and almost completing her certification, becoming a Can Do Canine just wasn't in the cards. But this didn't stop her from continuing to sniff out a way to help people with disabilities … this time as a therapy dog.
Avett's assistance dog journey began in 2010 when she was rescued from an animal shelter by a Minnesota family. One of their children was diagnosed with autism and they were hoping Avett might be able to provide some calm, companionship and additional safety for their child. Unfortunately the child didn't seem to bond well with the dog and the family found themselves at an impasse. They contacted Can Do Canines to see if we would have any interest in a well-trained, fully grown dog who had already begun to learn Autism Assist Dog skills. In which we said … "Of course!"
In 2011, Avett came to our facility for assessment and to fine tune some of those Autism Assist Dog skills she learned from the family. Everything was going smoothly and Avett was nearly ready to be placed with a client when her X-rays came back from the veterinarian … they showed she had mild hip dysplasia. Due to the expense of training and the responsibility our dogs have in caring for their partners, Can Do Canines requires our assistance dogs to have a perfect bill of health before being teamed up with a client.
Luckily, Avett's story takes a happy turn at this point thanks to Cassidy and Matthew LeCroy. They had both let Can Do Canines know "if you ever find yourself with a really well-behaved large dog, we'd be more than happy to give him a loving home!" Avett perfectly fit the bill and so they did.
Cassidy and Matthew work at Camp Easter Seals – Iowa which operates Camp Sunnyside in Des Moines. The camp offers a variety of activities from horseback riding and a rock wall to paddle boarding and canoeing – all custom tailored for people with disabilities. Cassidy had seen the positive effect various dogs had on campers throughout the years and brought up the idea of Avett being the camp's first therapy dog.
"The camp knew this was a fully trained, well-mannered assistance dog," says Cassidy. "They had no hesitations having her become the camp's "resident dog."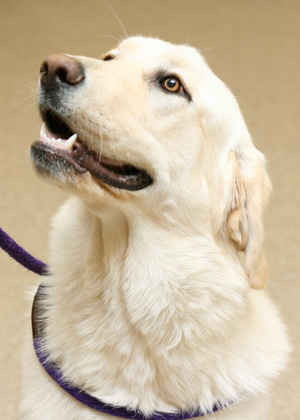 So what exactly does Avett do as a therapy dog?
"Simply put, Avett puts smiles on people's faces," says Cassidy. "A lot of our campers live in group homes or non-traditional housing and don't have a chance to have a pet for companionship. We let everyone play with her, so they can have a little more joy in their life while they're here."
Campers, more or less, take turns caring for Avett. They take her for walks on nature trails, pet her and even lie on the ground with her and snuggle next to the campfire. Every once in a while, Avett lets her past training peek through a bit and impresses the campers with tricks like pulling out a drawer or opening a door. The campers always exclaim, "Oh my goodness! Where did she learn how do that?"
Cassidy notes that every now and then Avett falls back on her Autism Assist Dog skills as well. If her ears get tugged, her tailed pulled or someone accidentally steps too close, Avett remains completely calm, cool and collected – pleased to just be part of the gang and included in the action.
Avett's positive vibes don't end with the campers however, the staff also love having Avett around.
"Ninety-five percent of our staff are international and have been away from their home and pets for three to four months. Having Avett around fills them with so much joy and companionship. She's just wonderful to everyone she meets."
With summer gearing up, Avett is gearing up too – ready to greet the next group of campers as they arrive. She'll be there to provide warmth, joy and companionship … the kind of therapy we all need.