Life's most important lessons are not always discovered in a classroom or within the pages of a book. Sometimes the concepts of compassion, charity and responsibility are found in a small furry package, complete with wagging tail and wet nose.
While Sara Vander Lugt and her family have not been Can Do Canines volunteers for long, they already understand the Puppy Raiser Program has the knack of teaching all who get involved, human or canine, lessons that far transcend how to raise a dog.
"Even two months into the Puppy Raising Program, I feel like my family has gotten a lot out of it," Vander Lugt said. "It's a great learning opportunity for my girls, in terms of it being something we can do to give back."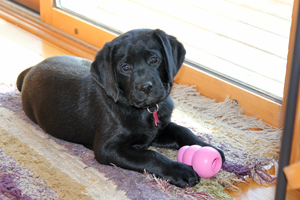 Hailing from Shakopee Minn., Sara had a yearning for raising an assistance dog for quite some time. She stumbled upon Can Do Canines when her daughter saw a Can Do Canines volunteer at a youth camp at the Minnesota Zoo. Searching for a service project that would be more "hands-on", the Puppy Raising Program seemed to be a perfect fit.
"It's easy to just make a donation to a church, but I've been looking for something we could do as a family," Vander Lugt explained. "It just fit into our lives."
So in April, Rylee, a black Labrador retriever, found her way into the Vander Lugt's home and their hearts. While dealing with a lab puppy with its endless supply of restless energy and exuberance can be exhausting and involve a considerable amount of hard work, Sara values the opportunity to get a first-hand view of the growth of Rylee.
Luckily, Sara is not alone in trying to raise the little pup. Her husband and two children are all directly involved in the process, something that is important to Sara.
"The girls work a lot on the 'sits' and 'downs,' and I try some of the harder skills like loose leash walking. But they come to class with me once a month," she says. "I want them to understand through this process that this dog is not ours to keep."
While the trials and tribulations of housing a restless puppy can be stressful, especially for a family new to the Puppy Raising Program, Sara is able to sleep much easier knowing the incredible support system Can Do Canines provides their volunteers.
"I'm really impressed with how organized they are. I feel they are really thorough with the information that they provide and the resources they give us," Vander Lugt explains. "As a new puppy raiser, that gives me a lot of comfort. It wasn't like 'here's this puppy, we'll come back and get her in a year and a half.' Instead they are really helping me along the way."
While the majority of the family is getting along famously with Rylee, there is one member who is a "less than thrilled" about the recent house guest – the Vander Lugt's cat.
"Rylee wants to play with the cat in the worst way, but the cat wants nothing to do with her," Sara said. "There are times I want to tell the cat that she can fight back, since Rylee will come at her with her big lab paws and want to lay on her."
The family feline notwithstanding, the Vander Lugts are altogether thrilled with both the excitement Rylee has brought and exactly what her training represents for Can Do Canines. Sara has made it a point to bring her daughters to a recent Tails to Tell Tour and the May Graduation ceremony to show them exactly what a difference dogs like Rylee can make in the community and in the lives of their future clients.
While the list of positive reasons for becoming a Can Do Canines volunteer grows by the day, Sara has a very short message for those who may be considering joining the Puppy Raising program like her family did.
"Just do it."