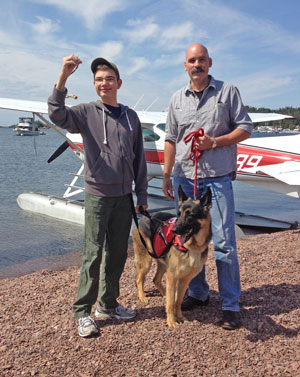 The Goldens of St. Paul, Minnesota, love to travel. They especially enjoy trips to the North Shore of Lake Superior, exploring parks and small towns from Duluth to Grand Marais. It wasn't always this way for the family of four: dad Keith, mom Christine and the children, Finn and Brigid. In fact, prior to 2008, even a leisurely stroll to a neighborhood park was next to impossible.
Keith recalls: "We were shut-ins. We basically didn't go anywhere. We didn't visit family, didn't go to friends' houses, restaurants or church. My wife used to say that our world was shrinking."
That was before Traeh, then a three-year-old German Shepherd and Can Do Canines Autism Assist Dog, arrived at the Goldens' home. He became a helper to Finn, a nine-year-old with autism, ultimately bringing a new-found freedom to the whole family.
Finn's autism was difficult for Keith and Chris to manage on their own. "Just going for a walk around the block was a traumatic experience that involved a lot of screaming, wrestling and Finn constantly attempting to escape," explains Keith. "He has no concept of his own safety."
Besides his calming influence, Traeh prevented Finn from running off. Finn was fitted with a special belt connected to Traeh's harness. Over the years, that connection has made a huge difference for a family with places to go, according to Keith.  "Finn loves to travel, probably more than anyone else in the family. He really likes to hit the open road."
Even travel by air is within reach now.
"A couple years ago, we took a plane to my niece's wedding in Portland, Oregon. Traeh came with us and helped make everything go very smoothly. You can imagine that transitioning through a busy airport with a kid who has autism is not the easiest thing to do."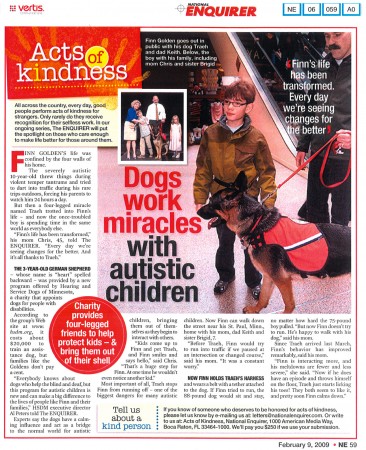 In fact, you might say that such a trip was unimaginable before Traeh came onto the scene. "The difference is like night and day from where we were and what we've been able to accomplish since we've had Traeh."
TRAVELING FORWARD
Now 15, Finn is a student at Bridgeview School in St. Paul. His behavior has improved significantly — meltdowns are a thing of the past. However, his parents still worry about attempted escapes, and nine-year-old Traeh still works to keep Finn safe and close to his parents.
"Traeh is very serious about his job. He's very aware of where all family members are," says Keith. "He doesn't like it when everyone's not together, such as when we're shopping. If we get separated, he's nervous until we get back together."
The six-year bond between Finn and Traeh has yielded benefits beyond what's expected from an Autism Assist Dog.
For example, Keith has noticed a positive effect on Finn's demeanor when he's out in public places. "Finn is nonverbal. However, having a dog has made him more approachable. People want to pet Traeh and talk about him. Finn enjoys the attention, even if he doesn't respond verbally."
One particularly remarkable development has been Traeh's ability to detect impending seizures — even though he's never received training as a Seizure Assist Dog. "Finn has a pretty severe seizure disorder, and on several occasions Traeh has alerted us that something's going to happen. At first, we didn't know he could do this, so we didn't pay attention to him."
Today, Traeh's workload has diminished due to age and health problems. "Fortunately, as he's slowed down, we've needed him less because of Finn's improved behavior. Traeh has helped us get to the point where we don't need him in a lot of situations."
Looking back over the years, Keith and Chris deeply appreciate how much of a difference Traeh has made in the life of Finn and the entire family. "I guess it's become such a routine, we sometimes don't realize how much of an impact he's had, and we take it for granted," states Keith. "But as I said before, the difference has been night and day."