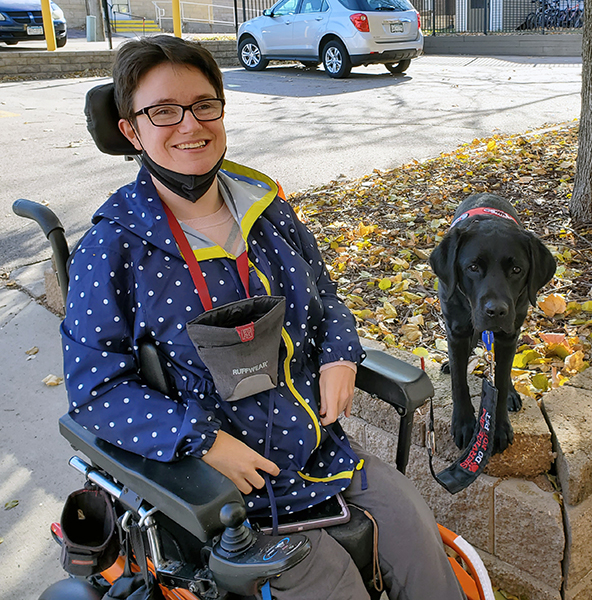 Nicole, who has spastic cerebral palsy and uses a power wheelchair, says, "I may have wheels, but that's just a part of me." Another part of her life these days is Astro, her Mobility Assist Dog.
Nicole originally became aware of Can Do Canines when she saw another resident in her apartment building teamed with one of our service dogs. Shortly after that, in 2017, she was paired with Mac, who recently had to retire. Nicole explains, "He let me know that he was done. He just wanted to be a dog, and I respected that, because that's what he deserves."
It was a quiet four months between canine partners, with Nicole saying, "They talk back, just not with words." Now with Astro, she attests, "It feels more complete again around here. It feels like a home again." And around that home, her nearly 3-year-old black Lab is eager to help. Picking up dropped items "is a big one," says Nicole. "My flexibility and mobility is hindered due to surgical rods in my back. I can only bend so far." So taking Nicole's coat off, opening doors and drawers, getting clothes off hangers and retrieving items are other ways Astro moves to meet her needs. Plus, Nicole adds, "A lot of the work happens when I'm cooking." Not only does Astro open and close the refrigerator, the pair has also worked out a system for handing off items. Nicole's grabber serves a dual purpose as a pointer for lower items in the fridge to "give him a visual cue."
This creative and ambitious team has developed impressive habits while out and about too, with Nicole proudly stating that Astro has learned to press crosswalk buttons. "There really isn't anything that I've tried to tackle that Astro couldn't figure out." So with Astro by her side, Nicole is regularly getting out into the community. Together they visit the library, the mall and stores. They ride the bus, and Nicole explains, "He knows where his spot is. He knows where to sit to stay out of the way." Yet, out in public, Astro naturally raises curiosity, which Nicole doesn't mind. "I'm a social butterfly anyway, but he helps other people approach me. I would do it without a dog, but most people are always a little bit hesitant or reserved. That tends to go away with a dog as a buffer." She adds, "I like being an ambassador for [Can Do Canines] and answering questions and educating."
Her give-back attitude stems from her sincere gratitude for all others have done to make Can Do Canines dogs possible for people like her. "Without that, none of these matches would be possible. That selflessness and [those] sacrifices have made my life so much better, and I appreciate it in ways that I cannot even express."
Coming up, Nicole is planning her college graduation in June, hoping to begin a job in the writing field and wanting to break down barriers in the workplace. " I have this physical aspect of my life, but I'm capable of doing a lot of things. It just requires help from a four-legged friend." Although Astro won't be writing while alongside her, he'll be doing his own communicating—whether it's with his tail ("He even wags in his sleep sometimes," reports Nicole) or his tongue ("He uses his tongue like an antenna, investigating everything.").
Nicole remembers a particularly special bonding moment when Astro seemed to be communicating his love for her. During their first night staying together at Can Do Canines, while she was putting his cape on, he "just put his head on my shoulder." She explains, "He's carried that with him home," so when she asks for a hug now, he happily complies with this action. "He initiated that himself, so I think that was pretty special."
It's no wonder that this hugging, wagging, crosswalk-pushing, fridge-opening partner is such a valuable part of Nicole's world. She sums it all up, saying, " Life is much better . . . He brings joy to every day."
Thank you to all those who made this partnership possible:
Great Start Home: Jackie Culver
Puppy Raiser: Stanley Correctional Institution
Special Thanks: Sharon Fong
Team Sponsor: Express Lane
Field Trainer: Lynn Davey
You: Thank you for your donations!