By Sarah Lennander 
Sandra and Chris had concerns when applying for an assistance dog for their now 11-year-old daughter, Briella, who has autism spectrum disorder. Their biggest worry? "The dog being able to cope with Briella," says mom Sandra. "She can get pretty aggressive when she gets upset, so could a dog be able to handle being with her?"
Briella has increased sensory sensitivities and is particularly bothered by sound. In addition, she doesn't understand the concept of danger and will run away when a situation becomes overwhelming, potentially putting herself in harm's way.
"We were at a Burger King when she was younger and she actually ran in the back where they were working and actually ran out the back door," remembers dad Chris. 
Sandra says, "Our family outings were very limited because of Briella's flight risk and because of her sensory sensitivities. We just didn't do anything. We didn't leave the house as a family."
So they worried. Would Briella be able to find a teammate?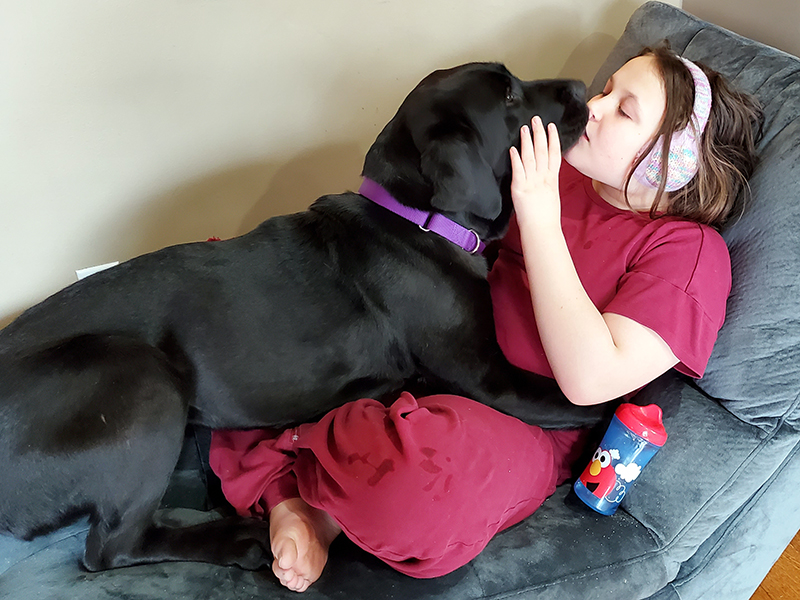 In January, their question was answered by a black Labrador Retriever/Golden Retriever mix named Basil. Trained to act as a furry anchor, Basil stops Briella from bolting into dangerous situations like running through a restaurant's kitchen. The two are tethered together with a special leash, and if Briella tries to run away, Basil plops down and doesn't move. She then knows to lick Briella's face to calm her, and Briella knows she can hand-feed Basil to help ground her.
The team has been a good match from the start. "Briella loves to have her face licked and Basil loves to lick faces so they're a good partnership," Sandra smiles. They like spending time in the backyard, Briella swinging while Basil runs laps, sometimes stopping by to give her new friend a wet kiss.
Basil is a retriever through and through. "She's very warm and welcoming. When you've been gone and you come in, her whole back end wags … the whole back end goes side to side because she's so excited to see people," says Sandra. "You can really see it in her face. And she drools a lot whenever she sees food," laughs Chris.
In addition to sensory sensitivities and bolting behavior, Briella, like many children with autism, struggles with bedtime. Before, Briella had to fall asleep in her parents' bed watching movies. But now, Briella will say, "collar off," and mom or dad will remove Basil's collar and kennel her in Briella's room. Then Briella will get into her own bed and fall asleep. "She knows that collar comes off and then Basil goes in the kennel to go to sleep. And she wants the dog to go to sleep so she can go to sleep. So that bedtime routine has definitely improved with Basil's help."
Further, Briella is better advocating for herself. "Briella [can] use her language to advocate for what she needs with Basil. She's verbal but she has very limited verbal skills. But she can talk when she wants the dog to do something. When she wants Basil to lick her face, she actually says, 'I want tongue,'" laughs Sandra.
Now that Briella has a teammate helping her along the way, life looks different for the whole family, including Briella's two younger sisters. "We have a lot more opportunities to go and do things," Sandra explains. "The most exciting thing has been being able to access the community again."
Chris shares they've been out to eat again without any meltdowns or escapes through the kitchen. "It's been maybe four years since Briella's been in a restaurant because we just couldn't," adds Sandra.
With Basil, the family can engage with their community and utilize their church, library and other resources again. "Basil has made a big difference in our lives," shares Sandra. "We're grateful for the help and the help of the people who helped train her. It shows the amount of training and skills that she has," says Chris. "She does such a good job not only with Briella, but with the other girls too–everyone. It really shows."
Thank you to all those who made this partnership possible:
Whelping Home: Lindsay Merkel
Great Start Home: Jamie Barker
Puppy Raiser: Stanley Correctional Institution
Special Thanks: The Gilbertson Family
You: Thank you for your donations!