Amy Sabot and Mobility Assist Dog Mable
By Bobb Elsenpeter
Amy Sabot's life was forever changed when she had a stroke—at just 7 years old. "My brother went to get my mom up—she had just come back from the nursing home where she worked—and he said, 'I think Amy had a stroke. But kids don't have strokes,'" Amy remembers. After several more strokes at the hospital, Amy's right side was affected by hemiparesis, a partial weakness on one side of the body.
Her family helped her learn to adapt with walking, daily care, and activities, and she continued to adjust to her new way of life. Amy was later diagnosed with arthritis and lupus, adding to her challenges. Since she can have different flare severity on any given day, Amy has increased risks and difficulty with holding smaller items, leaning down to pick things up, and sometimes balance.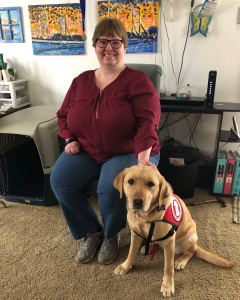 Years later, Amy's doctor suggested she get an assistance dog, which led her to Can Do Canines. She was ultimately paired with Mable, a Yellow Labrador Retriever. Mable provides Amy the tools she needs for continued independence, not having to rely on her husband, Wade, for as much.
Before Mable, Amy was able to cope, but it required some forethought or the help of others. "When I would tie my shoes, I would have to have them tied and put them on," Amy says. Or she would ask people to put her shoes on for her, or grab her socks so she didn't have to bend over. But Mable helps her be more self-reliant since she can grab Amy's socks and shoes for her.
"I feel differently, because she helps me open the door on my freezer or my refrigerator," Amy says. "She helps me open the door to my pantry, which I couldn't open because of my arthritis. When Wade works, I had to wait until he got home to do things for me, and now [Mable] can help me … Wade can go to work now and not have to worry about, 'Is Amy going to be able to pick up something today?'"
That sense of independence extends beyond the four walls of her home and out into the world.
"I feel comfortable that I can go out and shop by myself knowing that she's there," Amy says. Mable can grab items from lower shelves and pick up anything Amy drops. Wade notices the improvement as well, especially when they're shopping. "She can walk a lot better," he says.
Volunteers and donors are the lifeblood of Can Do Canines, and to them, Amy offers her heartfelt gratitude. "I would thank them very much for giving me the opportunity to have Mable," she says. "I know it's hard work for them. We had puppies, too, and that's hard work. They gave so much to raise her."
Amy has strived to live life to the fullest, and with Mable's help, she expects to keep moving forward.
Thank you to all those who made this partnership possible:
Great Start Home: The VanderLugt family
Puppy Raiser: FCI Sandstone
Special Thanks: Dana Kittok, Lisa Hathy
Whelping Home: Dana Kittok
Breeder Host: Tysley Taylor & Sue Schlueter
You: Thank you for your donations!