If you attended the graduation ceremony last month, you would have seen graduate Greg Landeen and Mobility Assist Dog Nellie take center stage. And alongside them the volunteers who made Nellie possible: Puppy Raisers Diana Adamson and Paul Oberhaus. Vocalizing what a lot of us are thinking, graduate Greg says, "It's amazing that people are doing this on a volunteer basis. I can't imagine what it's like to have a dog that's this awesome and then have to say goodbye to her. Thank you, thank you, thank you!"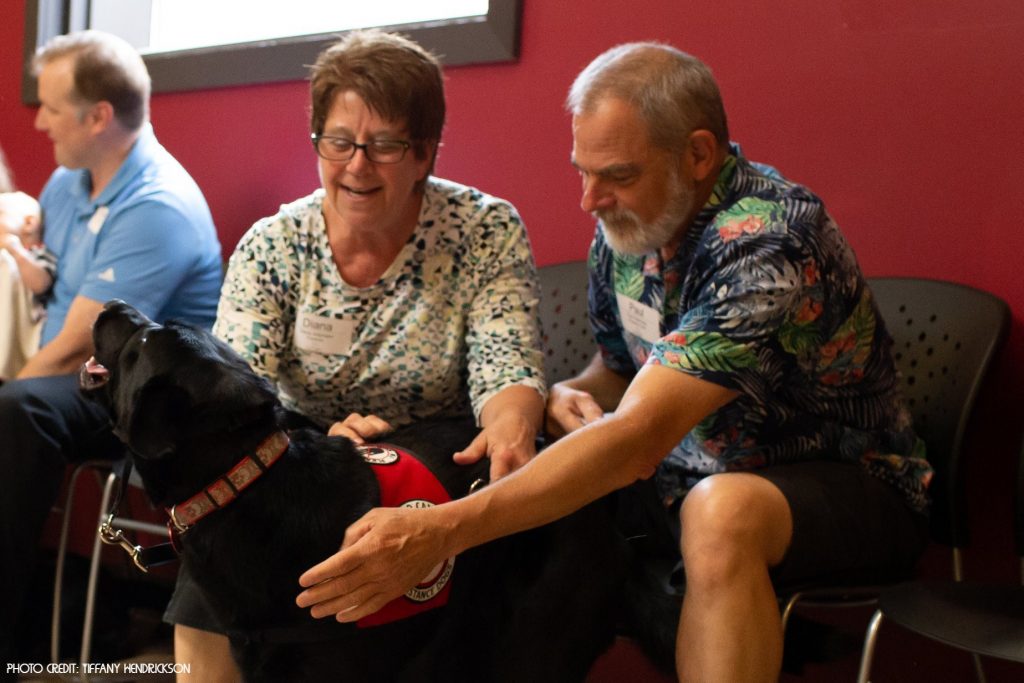 Throughout their 17 years of service, Diana and Paul have given much of themselves to our cause and we want to recognize the many lives changed as a result of their generosity.
On how they got their start back in 2002, Diana recalls, "I had read an article in the newspaper about Hearing and Service Dogs of Minnesota so I called to inquire about being a Puppy Raiser. It just seemed like a good fit for our family."
She continues, "We have had 25 dogs through our home over this time. We've had 13 graduate—seven mobility, one hearing, three diabetic, and two autism. We've had seven career changed—one we kept that was an awesome dad to so many puppies that came in and out of our home!" And to round out the list, Diana says, "We have one in final training and two that are now with us."
Diana and Paul have also been Breeder Hosts for two different dogs in the program: Tory and Yoga. After giving birth to two litters, Tory has since retired from the breeding program and is currently in for final training. Regarding Yoga, Diana says, "Yoga is in the process of being bred and we hope that she will become a mom around the first part of September. We are hoping to also whelp her first litter … so it will be a first for all of us!"
When asked about their favorite memory of their time volunteering, they say, "Probably all of the graduations that we've attended and had the honor to pass along one of our dogs to their lifelong partner. It is such a happy and heartfelt day for everyone. These interactions help us remember why we raise a puppy to give it away … to start all over again!"
Though they work and volunteer often, they still find time to partake in some of their hobbies. "We like to garden, travel, and work out. We also spend hours walking … with a puppy!" says Diana.
Diana and Paul, there aren't enough words to adequately express the gratitude we feel for your years of volunteer service. To echo Greg Landeen, "Thank you, thank you, thank you!"