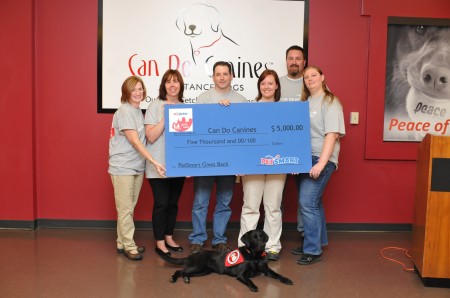 NEW HOPE, MINN. – 46 individuals from Minnesota and throughout the upper Midwest will receive a specially trained assistance dog at no charge from Can Do Canines in 2014 thanks, in part, to the generous support of corporations like PetSmart, Inc. PetSmart employees have seen Can Do Canines assistance dogs at work many times as their human partner shops for supplies in area PetSmart stores. Employees voted to give $5,000 to Can Do Canines and they can't wait to attend the October 11, 2014 graduation ceremony to meet a few of the teams that the PetSmart program supported.
The Graduation Ceremony represents the culmination of a long journey for the assistance dogs and their partners. Beginning with puppy raisers, either in the homes of volunteers or at one of three Minnesota prisons, the dogs are reared and taught basic obedience and early assistance dog skills. After 18 months, they are returned to Can Do Canines for final training and to begin their new life with a person in need, free of charge.
One such person that graduated in May 2014 is four year-old Julia Rogne and her Autism Assist Dog Ivy from Apple Valley, Minn. One of three Rogne children, all diagnosed with autism, Ivy has already had a life changing impact on Julia and her family. Prior to receiving an assistance dog, the Rogne's could not leave the house and keep Julia safe. Julia was prone to running off in public, a behavior commonly exhibited by children with autism, and her parents, Melanie and Paul, knew it was only a matter of time before disaster struck. Additionally, they hadn't received a good night's sleep in years, as it was necessary to sleep on the floor with Julia every night to prevent her nightmares.
But all of this changed with Ivy, a two year-old yellow Labrador retriever. When in public, Ivy is tethered to Julia while Melanie holds the leash, preventing Julia from running. Family outings, which used to be nearly impossible, are now more manageable. Since Ivy's first night, the dog curls up and sleeps on the floor with Julia and Melanie and Paul haven't lost a single night's sleep.
PetSmart employees also received a special honor due to their vote of support for Can Do Canines. The organization invited them to submit a name to be assigned to one of the puppies being born this summer in the breeding program. Can Do Canines accepted the name "Tango" and the employees will be getting a photo of "Tango" and regular "growth" reports as it goes through the training program. Development Director, Janet Cobus, stated, "Giving the employees an opportunity to name a puppy and follow it through the program is just one small way we can give back to PetSmart for their generous support."
PetSmart will provide this charitable donation through its PetSmart Gives Back initiative. This initiative focuses on giving back to local communities throughout the nation in support of organizations that enrich people's lives through the power of pets.
"My team is very excited to help contribute to changing a person's life forever," said Lori Ahern, District Manager. "It is just amazing that a dog can make such a difference! It is great to see not only how the dogs assist in making everyday tasks in life easier, but connect and become part of their family. It is an honor to support an organization that can provide animals this kind of training needed."
###
About Can Do Canines:
Can Do Canines is dedicated to enhancing the quality of life for people with disabilities by creating mutually beneficial partnerships with specially trained dogs. Since 1989, Can Do Canines has provided 455 assistance dogs to people with disabilities; all free of charge. Our fully trained dogs, often adopted from local animal shelters, are provided to our clients who live with disabilities that involve mobility challenges, hearing loss or deafness, seizure disorders, diabetes complicated by hypoglycemia unawareness or children with autism. Can Do Canines is located at 9440 Science Center Drive, New Hope, MN 55428.
About PetSmart:
PetSmart, Inc. (NASDAQ: PETM) is the largest specialty pet retailer of services and solutions for the lifetime needs of pets. The company employs approximately 53,000 associates and operates more than 1,333 pet stores in the United States, Canada and Puerto Rico, over 199 in-store PetSmart® PetsHotel® dog and cat boarding facilities and is a leading online provider of pet supplies and pet care information (http://www.petsmart.com). PetSmart provides a broad range of competitively priced pet food and pet products; and offers dog training, pet grooming, pet boarding, PetSmart Doggie Day Camp SM day care services and pet adoption services. Through its in-store pet adoption partnership with PetSmart Charities® and PetSmart Charities® of Canada, PetSmart has helped save the lives of more than 5.7 million pets since 1994. PetSmart Charities, Inc. and PetSmart Charities of Canada (collectively "PetSmart Charities") are independent, nonprofit organizations that save the lives of homeless pets and reduce shelter intake through spay and neuter efforts. In 2013, nearly 440,000 dogs and cats found homes through PetSmart Charities' adoption centers in all PetSmart stores and by sponsoring community adoption events. PetSmart Charities is the leader in granting money to help pets in need, with more than $34 million given in 2013 throughout North America.