"To teach is to touch a life forever."
Most teachers are familiar with this quote by Jerry Whittle, and touching lives through teaching is something Tim seems to do without even trying. In his 53rd year as an anthropology professor at the University of Minnesota-Duluth, Tim says of teaching, "That's been my whole life."
Something that has occurred more recently in his life–approximately 15 years ago, is a loss of hearing. That's why when Tim's young granddaughter insisted he needed a service dog to help him, he looked into the concept. "It's really difficult to argue with a 7-year-old granddaughter who wants to save your life," admits Tim.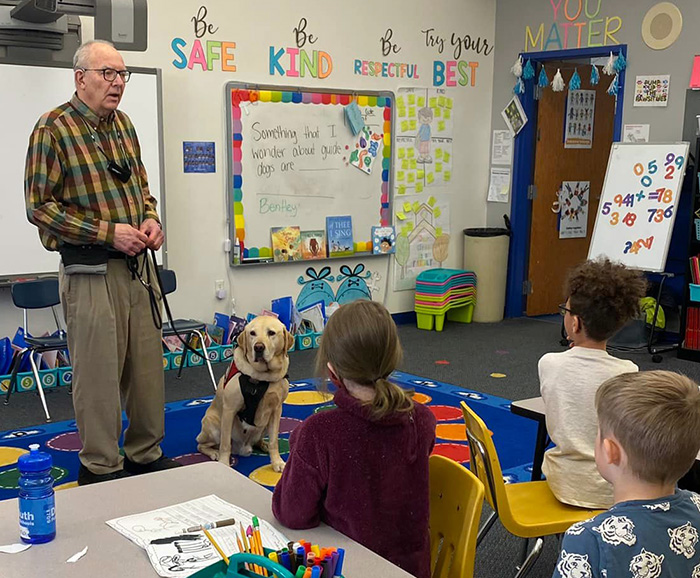 So Tim and his wife, Kim, welcomed a yellow Labrador Retriever puppy into their lives and named him Bentley. As Bentley was growing into his paws and passing obedience courses, Tim and Kim learned about Can Do Canines. Tim began the process of certifying Bentley as an owner-provided Hearing Assist Dog through Can Do Canines, and in 2018, this hearing assist team proved that what they had been taught was indeed certification-worthy.
Bentley was trained to alert Tim to a wide variety of sounds, and Tim figures that his loyal Lab has saved his life, just by literally touching him at least 15 times so far. He describes the first time that Bentley jumped into major alert action was when Tim was sharing his story at a Can Do Canines Board of Directors meeting. A fire alarm went off, and Bentley was adamant that Tim needed to make his way to an exit. Remembering that it was a cold winter day, and the group was fairly certain that it was a false alarm, Tim recalls, "I was hoping we would get to that first door, and [Bentley] would let me stay inside. But no, he headed right through, down the sidewalk and across the parking lot to the far side to safety."
Bentley also alerts to more common sounds like oven timers, doorbells, door knocks, car doors closing and unusual human sounds in the yard.
The feeling of security Bentley brings extends beyond Tim's own comfort. He explains, "The peace of mind that Bentley brings to my wife and to the whole family is extremely important." Kim travels frequently, and Tim confesses, "I sleep like a log. . .She can now go away and is fully confident that if some emergency comes up, Bentley will take care of it." In fact, Tim stresses Bentley's persistence, saying "He doesn't have a snooze alarm. He gets me up…and he's all business." Since Tim can only wear his cochlear implants for about four to five hours per day, it's a good thing Bentley's work ethic is so strong. In any potentially dangerous circumstance, Bentley always reacts with Tim's best interest in mind. "His concern is not to run away, but to take me away from that situation," says Tim.
Some of the times when Bentley has had to alert Tim is when Tim is in teaching mode, and Bentley has logged many days at the university campus over the years. However, given Tim's passion to educate others, he has also made it a practice to share with others the benefits of an assistance dog. In April, the pair presented to a first-grade class at Lowell Elementary School in Duluth. Tim says, "There's nothing like visiting and teaching first graders. They're just so excited. When you ask if there's a question, every hand shoots up."
Tim has also shared his important message at the Cloquet Library and plans to give a presentation at the Duluth Children's Museum soon.
Whenever and wherever Tim is educating others, Bentley is a necessary part of his life. He says, "When I'm teaching, now I can be fully independent." And with that teaching, whether it's about anthropology or assistance dogs, more lives will be touched.