In 2018, while in high school, Sage's life began to spin out of control. That's when a neurological disorder surfaced, causing issues with balance and body-movement control. Her mom, Lisa, explains, "She went from having a job and going to school, and then she fell, and within two weeks, she was using a wheelchair."
Although Sage jokes that when she isn't using her wheelchair, "I walk like a drunk person," her new normal is no laughing matter. Her fears are all too real, as she recalls falling in the tub once and sustaining a head injury. Those same fears have kept her from going out in public much too. "I haven't left the house without someone else in over three years," says Sage, who was able to finish high school through online education and secure a job working from home now.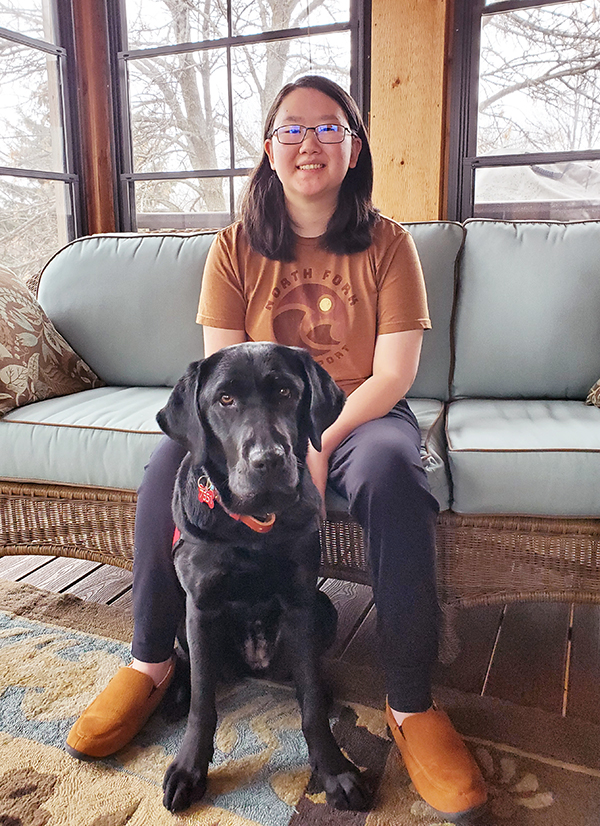 Sage recently welcomed Mobility Assist Dog Bella into her life, and her world is widening. Now, this lovable black Lab is easing concerns and offering more independence to Sage and more freedom to Sage's parents. As Lisa relays, "There was one time when Sage dropped a crutch in a room and was unable to get to it, and she had to sit there for 40 minutes until we got home. Now, she drops a crutch and there are times actually when Bella hears it and races to her to be right there for her. It's given my husband and I such a peace of mind to know if we leave the house now, Sage isn't going to be stranded. For me, that is the number one benefit."
Sage adds, "Another issue with the crutches is that when I use them, I am unable to carry anything. I used to have to shove everything into my pockets, and if it didn't fit in my pockets, my parents would have to carry it for me. Now Bella is able to carry my things all around the house in a lunchbox."
Beyond being a "crutch picker-upper and item carrier," Bella excels at retrieving a water bottle, a phone, an ice pack and other necessary objects; going to get someone to help Sage, activating push plates and more. Plus, trainer Jen suggested skills Bella could do that Sage and her parents did not predict. Lisa shares, "The home visits were so crucial. It really set us up for success." Lisa explains that through the training process, "Jen helped us see other ways that Bella could help within the house, things we maybe wouldn't have thought of." One example was how Bella could help pull down the footrest on the chair lift that Sage uses to go up and down the stairs. "[Jen] just opened our eyes to the potential for Bella," says Lisa.
So now this canine whose tail spins like a helicopter, according to Sage, has Sage's mind spinning with new options for her future. "My goal is to move out into my own place someday, and with Bella by my side, she makes it seem much less daunting," says Sage. Lisa agrees, stating, "Before we even talked about getting a dog, I couldn't see out into the future where Sage would be moving out. She had talked about it, but as a mother, I was fearful of having her on her own. Now…I'm much more confident that she and Bella together will succeed."
Believing that Bella is everything they needed and more, Lisa says, "I am overwhelmed with how grateful I am for the training that has gone into making Bella such a great companion for Sage." Seeing the incredible difference that Bella is making in Sage's life has made this family appreciate that they took the idea of getting an assistance dog out for a spin.
Thank you to all those who made this partnership possible:
Whelping Home: Lindsay Merkel
Great Start Home: The Elkins Family
Puppy Raiser: Stanley Correctional Institution
Special Thanks: The Elkins Family
Name-A-Puppy Donor: Hamel Lions Club
You: Thank you for your donations!