Jessica was born deaf in her right ear and started losing hearing in her left ear at age 9. A hearing aid helped for many years, but in 2012, she completely lost her remaining hearing. Jessica found success with a cochlear implant (CI), which is still not the miracle solution it can seem to be.
She wears a cochlear implant mostly to help communicate with people, but she still misses a lot of important sounds. Without any hearing on her right side and the inability to determine the source or direction of sounds, she's had severe concerns about staying safe. She does not hear distant or lower/higher pitches, plus she takes her CI off at night.
Another Can Do Canines client and friend to Jessica showed just what a difference a hearing assistance dog could make. Jessica realized she was not sleeping and was drained from the fear of missing alarms, so she decided to apply for her own Hearing Assist Dog.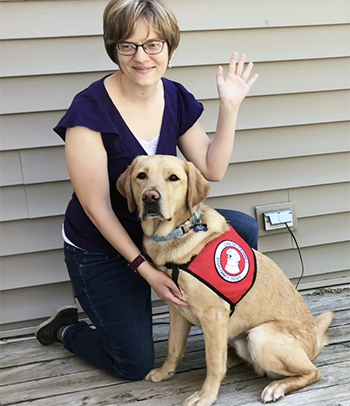 Finally Finding Rest
Jessica still could not have imagined what a difference York, a 2-year-old yellow Labrador Retriever, could make for her. She was nervous about having an assistance dog and doing everything right, but she soon learned York was a happy helper and to be trusted. If he's not staring her down, ready to spring into action, he is being "the most cuddly dog you could meet."
The team started building skills with his alert to Jessica's kitchen timer, and then her cell phone timer. They progressed to the microwave and the smoke alarm, then the house doorbell and knocks. Jessica works hard as a nanny, and at her job, York nudges her when he hears the timers, which Jessica often cannot hear over the household noise.
His latest skill is something she taught him: alerting her to a baby crying on the monitor. The moment he alerted her to this on his own was a lightbulb moment that Jessica is thrilled to recall. Finding his purpose and spending time with the children has been a blissful experience for him, and Jessica feels the same joy about their match.
Jessica remembers being unable to sleep peacefully at night, worried she would miss the smoke alarm or any other alarms she relied on for safety. Even in the day, wearing a CI is fatiguing to the brain because it's not processing sounds as they should sound, but through "mechanical hearing." Jessica would nervously take breaks from her CI out of sheer exhaustion. Since York has been with her, she is able to fully rest and recover in safe silence.
Grateful for a New Confidence with a New Partner
Jessica says of her canine companion, "He's been such a gift to me…I'm so grateful for the people who have helped York get to me. Just like my CI and sign language are tools, he's an added piece of that puzzle and he's able to help me live my life." She no longer feels disappointment or shame for missing sounds, and is no longer reliant on people telling her that she was missing a noise. She says being hard of hearing means constantly feeling on edge, but having York in her life has provided amazing relief. Seeing both of their confidence levels soar has astounded Jessica's family and friends.
Major goals for this Elk River resident include taking her first solo trip to see an ocean with York, and she is ecstatic to envision moving into an apartment on her own as a genuine possibility. The gratitude that pours from Jessica is phenomenal as she reflects on now feeling more calm, sleeping better, being more independent, and living at a new level of potential.
She says to the many people who care about making assistance dogs possible at Can Do Canines, "Thank you from the bottom of my heart. You have no idea how much it's changed my life for the better. It's just been amazing. This is the biggest heartfelt thank you to them, every single one who made him possible."
Thank you to all those who made this partnership possible:
Puppy Raiser: The Kittock Family
Special Thanks: Jackson Correctional Institution
Whelping Home: The Kittock Family
You: Thank you for your donations!