Steve served in the military during the Vietnam War and then worked in construction for 35 years. The noises from both of those experiences contributed to gradual hearing loss. His audiologist even speculated that Steve's cold-water swims in Lake Superior–an annual ritual–may have contributed to the condition as well.
So when he would need to remove his cochlear implants at night and hearing aids were no longer doing the job, he left himself vulnerable to sounds left unheard. His wife, Margaret, says, "I used my outdoor voice a lot. It was exhausting." Yet, beyond basic communication effectiveness, safety became a major concern. Finally, when the couple faced a kitchen fire, their fears accelerated. If Margaret hadn't been home at the time, she says, "It could have been disastrous. That emphasized the importance of having some added security."
That security soon appeared to them, looking strangely like the black Labrador Retriever, Huckleberry, that was their first dog in the 1980s. Regarding this new best friend named Andy, a Hearing Assist Dog from Can Do Canines, Steve says, "I saw it in his face." Immediately, he knew this was the dog for him, just as Huckleberry had once been.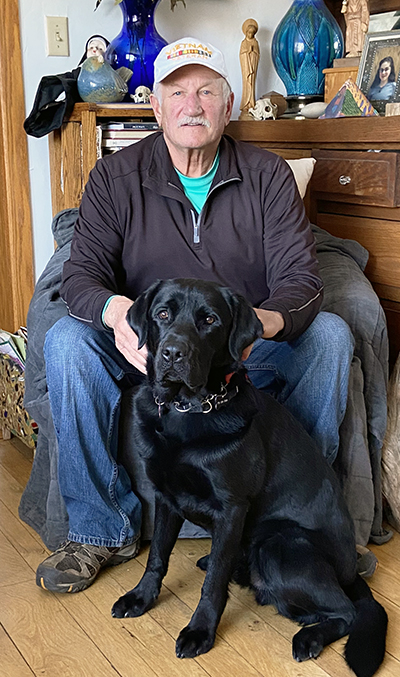 Andy wasted no time proving that Steve's belief in him was not misplaced and also winning his heart. "I'm not a big cuddler, but I guess I am with him," admits Steve. A working dog provides more than just snuggles though, and Andy regularly keeps Steve in tune with the sounds around them. Though both Steve and Margaret are retired now, Margaret is especially active with volunteering and is out of the house quite often. When Steve used to be in his "man cave" on the far end of the house, phone calls and knocks on the door would go unanswered. Good friends might let themselves in, but then startle Steve when showing up in a room. However, when Margaret would call home and receive no answer, she would get nervous with no way to track him down. Andy now keeps that communication flowing and Margaret states, "I've asked myself, 'Why did we wait so long?'"
Margaret used to teach children who had hearing issues and remembers how isolated they often felt, feeling left out of conversations. She shares, "I really think Andy has made Steve feel like he's really not alone. He's always got someone he can talk to, someone that agrees with him all the time," she jokingly adds.
Steve and Andy get out in the community of their Northern Wisconsin town quite often. He says when they visit the VA Hospital, he enjoys seeing when "one guy pokes the other guy and says, 'See what that dog did?'" He acknowledges, "[Andy] makes me proud how smart he is."
That intelligence has its advantages. Shortly after Andy moved in, he came into the bedroom at 1 a.m. to diligently alert Steve to an alarm going off. Their carbon monoxide detector was beeping. Luckily, it was only due to a dead battery, but Andy knew his job and performed it perfectly.
Feeling "blessed" to have Andy in their lives, Steve and Margaret are planning their own "Bow Wow Appreciation Celebration" for Fall 2022 to thank those in their lives who have supported them on this journey. Margaret also sews pet pillows and pads and intends on donating some to Can Do Canines' Fetching Ball Gala. They hope to attend future Can Do Canines events themselves, and might even miss being able to stay right at the organization's campus, confessing how much they appreciated having the accommodations to stay right at Can Do Canines while training with Andy. She explains, "Not having to worry about a hotel and finding our way back to the organization campus was extremely helpful too. That relaxed us through the whole process."
Plus, the actual location of Can Do Canines seemed serendipitous to them. Margaret reveals, "When we got word that this place was in New Hope, Minnesota, I thought it was a sign from the universe, a sign from God. It gave us New Hope. So having your organization physically located in New Hope gives people New Hope."
Thank you to all those who made this partnership possible:
Puppy Raiser — Stanley Correctional Institution
Great Start Home — Anonymous
Whelping Home — Wendy Jagt
Special Thanks — Derik Goodman