Rui Rui, a first-year college student, was born with Charcot-Marie-Tooth disease (CMT), which causes a progressive loss of muscle tissue and touch sensation across various parts of the body. This means that Rui Rui's balance is affected, and she cannot walk for long distances without the aid of an electric scooter or wheelchair. Rui Rui doesn't have a lot of strength or stamina in her legs and wears braces to help her walk.
In 2016, Can Do Canines paired her with Mobility Assist Dog Tango, who recently retired. With Rui Rui planning on heading to college in the fall, she knew she couldn't compromise the independence that Tango brought to her life. So during her senior year of high school, Rui Rui was matched with successor dog Yeti.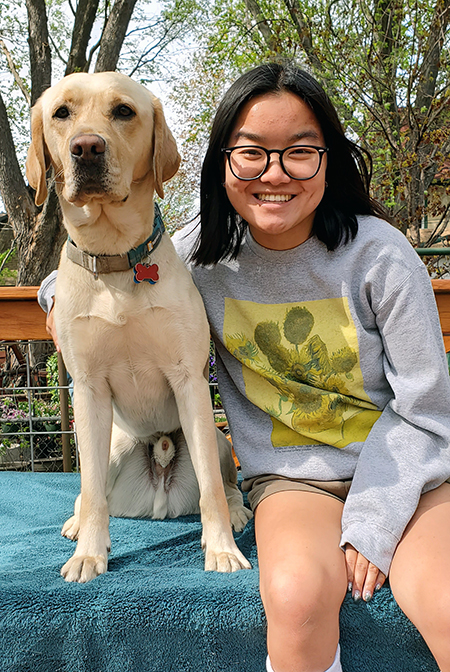 Rui Rui says, "I don't think I would have been able to physically get around high school without Tango. And I don't think college would be as easy of a transition [without Yeti]." While she admits she could have managed, walking is much more beneficial to her than using a wheelchair. "Having a dog allows me to maintain my strength and to participate at my fullest," she says.
Specific ways Yeti helps are by tugging open drawers and doors; bracing her to a standing position; carrying a small, reusable bag; retrieving items; and more.
The pair started attending classes at Davidson College in North Carolina this fall, and Rui Rui says, "I want to create my own interdisciplinary major that includes disability studies, and I'm going to minor in Chinese."
Focusing on disability awareness is nothing new to Rui Rui. This ambitious teen was the founder and president of the St. Paul School District's first student disability alliance club. She also served as co-vice president of Special Olympics Minnesota's Youth Board of Directors.As part of her activism work, she was instrumental in creating a survey on inclusion and accessibility for students in grades 6-12 throughout the St. Paul School District, and then using the data from the survey to create a course for teachers about ableism in the classroom. She says of these experiences, "I'm going to take what I learned and bring that to college."
Rui Rui's mature perspective is influenced by her experiences with her service dogs and advocacy involvement. She says, "I don't like to advocate for, but I like to advocate with, because I think advocacy is stronger with other people." She clarifies, "I think it is so important to educate people about living with a disability because it is so different for everyone."
Her mom, Sherry, shares, "We're really grateful for everything that everybody in the organization has done to bring both Tango and Yeti to us." Rui Rui eagerly agrees. "Yeti surprises me every day in the most amazing way, and I give that [credit] to his puppy raisers and trainers."
Thank you to all those who made this partnership possible:
Puppy Raiser — Jackson Correctional Institution
Great Start Home — Emma Persoon
Whelping Home — Jan McQuillan
Special Thanks — Janet & Gary Cobus, Emma Persoon