If you viewed the "More Ways to Serve" episode about us on Animal Planet's website, or on discovery+ or Animal Planet GO, we're glad you're interested in learning more about Can Do Canines! We hope you'll take the first step to stay connected with us by joining our email list. 
About Us
We are dedicated to enhancing the quality of life for people with disabilities by creating mutually beneficial partnerships with specially trained dogs. We provide dogs to adults and children who live with disabilities that involve mobility challenges, hearing loss or deafness, seizure disorders, diabetes complicated by hypoglycemia unawareness, or childhood autism. Since 1989, we have provided more than 750 service animals to people with disabilities, all free of charge, with animals being adopted from local animal shelters, when possible.
Interested in applying for a dog?
We take great pride in matching and training each dog to fit their client's individual personality and needs. 
Be sure to browse the abundant resources on this website to learn more about our process and requirements. Note that the family of a child with autism who may be interested in applying for a dog must reside in Minnesota. Other potential clients must live in either Minnesota or Wisconsin. If you would like to know more about applying for an assistance dog, visit the page Our Dogs. 
Interested in volunteering?
While a majority of our volunteer opportunities are offered in the Minneapolis area, there are other ways you can be involved. For instance, dogs that are in our various prison programs around Minnesota and Wisconsin need to experience the world outside prison occasionally, so residents in those communities are needed to foster for short periods of time. We also need people who enjoy driving and can transport dogs between organizations across the country.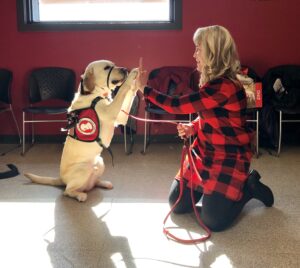 Volunteers in the Twin Cities have a variety of ways to help, including fostering dogs for as short as a day or two to as long as over a year at a time. Dog walkers, event helpers and committee members…just to name a few, also generously give their time. If you're considering becoming part of our pack, read more on our Volunteer page or contact our volunteer team at volunteer@candocanines.org or (763) 331-3000, ext. 120.
Interested in making a donation?
Since we provide our dogs free of charge to all clients, our supporters are a vital part of our mission. By giving $50, you can provide one month of food and some training treats for a dog. A $10 donation provides a dog enrichment toy for a pup. If you can help, please use the Donate button on this site so we can continue to make more teams a reality.
Still have a question?
We're happy to help! Contact us at info@candocanines.org or 763-331-3000.
Thanks for visiting us online! We hope to meet you soon.