Susie Baker first became a Puppy Raiser in 2013. Since then, 22 different Can Do Canines have made their way through the Baker home. She's also helped put on the Gala, Woofaroo and graduation events and has contributed her creative talents making Name-a-Puppy cards and photo books for team donors.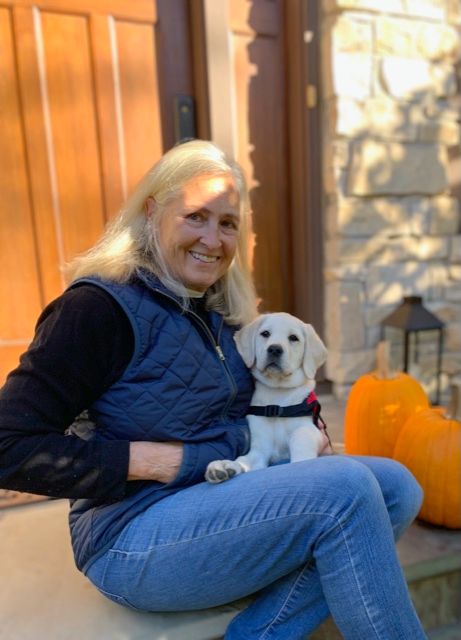 When asked how she first heard of Can Do Canines, Susie said, "When my daughter was in college, a friend's family was very involved with Can Do Canines. Her friend used to bring the dogs over to play in our fenced-in yard and it was then that I learned about the program. In July of 2013, I jumped in with both feet and became a puppy raiser (for Nina, the 500th dog to graduate!). I have been involved ever since."
Susie's favorite memory of her time volunteering occurred at a graduation. She describes, "At the graduation of one of my long term fosters, I had the opportunity to meet the client. The woman was very nice, but the interaction was extremely limited, and I was selfishly disappointed. As I was leaving the room, her husband took me aside and said, 'Thank you, my wife hasn't smiled for three years – until she got this dog. You have helped change her life; I am so grateful.' Those words made it all worthwhile!"
If you are thinking of becoming a foster home, Susie would tell you, "If you are looking for a challenging, yet rewarding opportunity – and you are an absolute dog lover – this is the place for you. You will be supported and guided throughout your journey by very caring and knowledgeable people." 
When not volunteering, Susie likes to spend time with her grandchildren, golf, bike, read and hang out at her cabin. 
A huge thank you to Susie for all of her amazing volunteer contributions. You are such a valuable part of the pack, and we're very grateful for you!