By Ian Hebeisen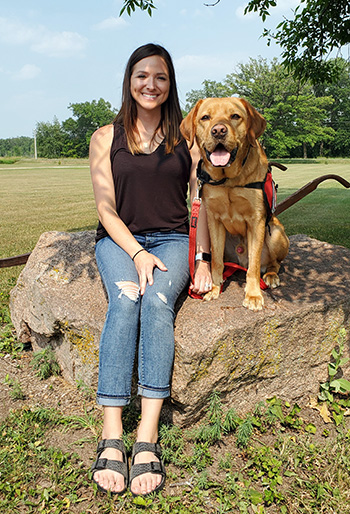 Diagnosed with Type 1 diabetes at the age of 16, Lindsy has spent most of her life battling blood sugar swings. Now a couple decades later, she's found a companion that enables her to live to the fullest: Ulric, a yellow Lab and Diabetes Assistance Dog from Can Do Canines.
During the last few years, Lindsy has begun experiencing lows in her blood sugar that she didn't notice. In serious instances, a drop in blood sugar could leave her unconscious. As a mother of three with a husband serving in the military, Lindsy felt afraid to be alone in case her blood sugar dropped. She said, "I had a hard time being alone with the kids because I was afraid of something happening."
Lindsy saw a video online of an assistance dog helping a person with low blood sugar, and decided to reach out to Can Do Canines. After getting approved for an assistance dog, Lindsy took Ulric home, and began the adjustment period. "I don't think I was prepared for the change in the family dynamic," she admitted. "It was like adding another member to the family, not just a pet. It was a transition."
Once Ulric and Lindsy got settled, his assistance became immediate and their connection strengthened. "He's a sweet soul, and I saw that in him right away. I didn't think I could get that from an animal." Not only does Ulric alert Lindsy when her blood sugar drops, but he also brings her juice, puts objects away, and closes drawers. "He's easygoing...and persistent when he [needs] to be. He likes being around people, and likes doing things that make people happy."
Ulric enables Lindsy to be on her own, serving as an extra level of security. With Ulric around, Lindsy doesn't need to rely on other people to monitor her blood sugar. "Even if I don't need help, it's nice to have that resource there so I don't have to ask another person."
While Lindsy's at work, Ulric tends to rest in his bed at the end of her desk. He accompanies Lindsy everywhere from home to the grocery store, which leads to some engaging conversations about diabetes and helps raise awareness for disabilities as a whole. "He's opened up doors for conversations I otherwise wouldn't have," said Lindsy. Having been private about her diabetes for a long time, she credits Ulric that she can now address her condition in a new light.
Lindsy uses Ulric to encourage people to seek help that might change their lives. "It's okay to use that extra little bit of help," she said.
When it comes to thanking the volunteers and donors at Can Do Canines, Lindsy struggles to find the proper words. "I have this amazing dog that hangs out and knows all the commands and knows what to do…We're just so thankful that there's people out there with such passion for training and loving the dogs. Thank you just doesn't sound good enough."
Without the volunteers and donors at Can Do Canines, Lindsy and Ulric would not have been united. Your continued support makes stories like this possible.
Thank you to all those who made this partnership possible:
Great Start Home: Lynne Kaufmann
Puppy Raiser: Stanley Correctional Institution
Special Thanks: The Jagt Family, The Temme Family
You: Thank you for your donations!