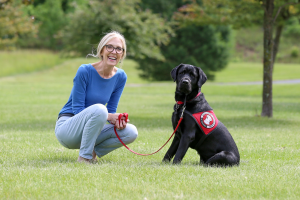 Raising and training an assistance dog truly requires the efforts of many, and it wouldn't be possible without people like Sue FitzGerald, a Can Do Canines volunteer helping with our Wisconsin programs.
Sue first heard of Can Do Canines at a Twin Cities dog show eight years ago and knew immediately that she wanted to get involved. After relocating from Minnesota to Wisconsin, she wasn't sure how she could participate, but as fate would have it she learned we were starting a program in Wisconsin. "One of the best days ever was seeing a local news segment indicating that Can Do Canines was placing dogs in the Stanley Correctional Facility. I couldn't get my application in fast enough."
From the onset Sue started her Puppy Program volunteer adventure as a Weekend Prison Foster and has since stepped in as a Great Start Home and Long-Term Foster. When asked what has surprised her about volunteering with Can Do Canines Puppy Program, Sue says, "The amount I have learned, not only about dogs and their behavior, but about the amount of time and number of people it takes to get a service dog through its journey from birth to graduation."
When asked about her favorite memory of volunteering, she responds, "I have so many great volunteer memories, but the ones that stand out most revolve around involvement in the community. With a Can Do Canine foster dog at my side most of the time, I get the opportunity to meet new people, share information about Can Do Canines, and encourage folks to join in volunteering."
If you're thinking about volunteering, Sue would tell you, "Hurry up! Come and join us! There are so many ways to volunteer. Can Do Canines will help you determine what the best fit is for you. It's one of the most rewarding experiences you'll ever have!"
Thank you, Sue, for all you do to bring assistance dogs to the people who need them!