It's not uncommon for someone to inquire about a Can Do Canines dog after learning about the organization from someone else. But when Bella knew three others who received a Can Do Canine, she figured it was her turn to apply too.
A sophomore, living on campus at Augsburg College and studying graphic design, Bella has Spinal Muscular Atrophy. She has some movement and control of her hands and legs, but uses a power chair and needs help with several daily tasks. She admits that she wanted someone—or in this case, something—"to always be there to help me."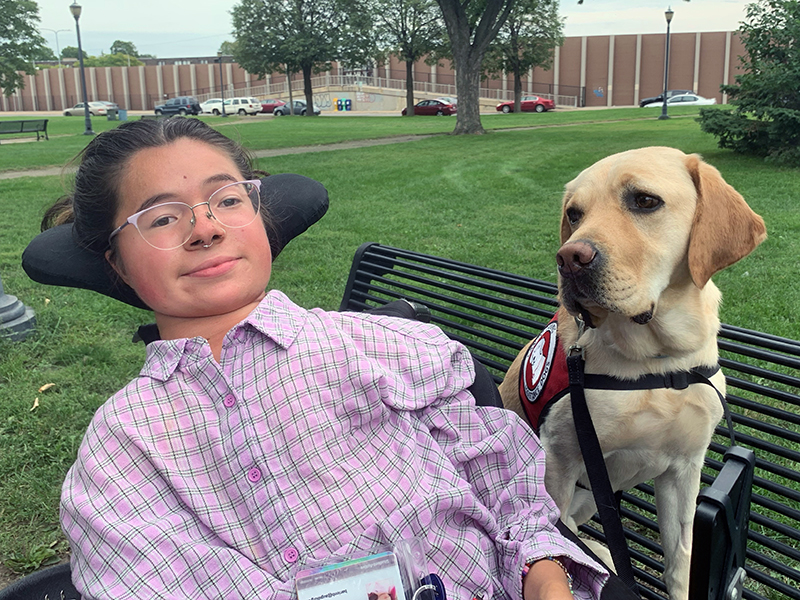 Yellow Labrador Retriever Uriel, picked his own "college major" as a Mobility Assist Dog while in for final training at Can Do Canines. Staff members suspected he might be the perfect fit for Bella, and they were right. Bella says, "He and I definitely made a connection and a bond."
Skilled in opening doors, picking up items, retrieving keys and other valuables, pushing buttons, and more, Uriel is an eager worker. "He really does his best to help," reports Bella. "He's very much a pleaser and super happy all the time." In fact, if enough time has passed since Uriel last made an assist, he will sometimes vocalize his preference for a task. Bella also notes his other silly characteristics of bouncing around and his own form of hugging by resting his head on someone. Bella laughingly explains that he seems to be communicating, "I'm here and you'll just have to deal with it."
Bella gladly deals with all of Uriel's idiosyncrasies, saying, "He has definitely given me a sense of security and independence, which makes me feel a lot better." She adds, "I feel like he's an extension of me."
She wants to extend her thanks to everyone who has helped make Uriel her "little angel." She shares, "It is a huge blessing. It definitely has changed my life in a positive way."
Thank you to all those who made this partnership possible:
Great Start Home: Deb Bauler
Puppy Raiser: Jackson Correctional Institution
Special Thanks: Wendy Jagt, Greg Brown
You: Thank you for your donations!