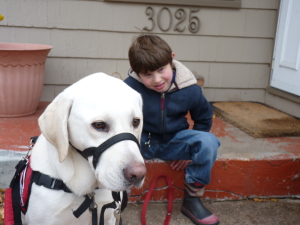 Max Vellon & Autism Assist Dog Jaycee
Having responsibilities can go a long way toward improving anyone's life, but especially for those with autism. Children assigned regular duties begin to feel empowered and develop a sense of accomplishment. It's even more rewarding when it comes from taking care of your best friend.
Eight-year-old Max Vellon lives in St. Louis Park, Minn. with his mother, Jenny, and his brother, sister and grandfather. He was officially diagnosed with autism at just 18 months of age.
"There were some developmental delays, for sure," Jenny says. "It wasn't so much in the social sphere as it was in physical delays. He wasn't able to hold his head up, he wasn't able to roll over and sit up."
Max didn't walk until he was 15 months old. However, now he is much more active, enjoying baseball, basketball, and horseback riding. Max is nonverbal, but communicates through painting, some sign language, and using an iPad.
"When he's frustrated, he hits items with his hands," says Jenny. "He stomps his feet. He sometimes hits people."
To alleviate some of his issues Jenny turned to the Fraser Autism Center for Excellence who mentioned Can Do Canines. The idea of an assistance dog sounded intriguing.
"I think an autism dog would help Max settle in his classroom, allowing him to have a greater attention span and concentration," Jenny wrote in her application. "I also feel the dog would calm Max, especially in unfamiliar settings."
After applying, Can Do Canines partnered Max with Jaycee, a yellow Labrador retriever. Jaycee helps keep Max safe and prevents him from bolting while in public and keeps him calm so he can sleep.
"Before Jaycee, Max was having sleep issues," Jenny says. "He was bolting in crowded places. He sometimes had issues when he was denied things, which can get him pretty agitated."
While impulse control is a major concern, socialization problems are a need that Jaycee also addresses. Max interacts mostly with older people, especially at school.
"He seems to be more comfortable around the teachers and the aides than he is around his peers," says Jenny. "Now he has the responsibility of taking care of Jaycee, walking him, feeding him. He really loves it. He gets very excited."
But the accountability assigned to him has been a huge benefit. Caring for a dog and having the responsibility of an assistance dog has increased Max's confidence.
"He's has added responsibility, and he seems to be happy about doing things for Jaycee, like brushing and walking him," says Jenny. "Those are big things for him. It seems like a lot of responsibility, and he takes a lot of pride in that."
Jenny encourages others considering an autism assistance dog not to be discouraged by early hurdles.
"It's an initial challenge, but I feel like we are rounding the corner," she says. "I'm excited to see what's going to happen."
Jenny praises Jaycee's Puppy Raisers and trainers for providing a dog for Max that's become such a positive influence.
"He is just beautiful and so high-spirited and fun," she says. "They did a wonderful job."
As for donors, Jenny wants them to know that their generosity is making a tangible difference.
She says, "I'm excited and thrilled to see Max so in love with this new dog and taking pride in ownership, and pride in having a really, really good friend. All of these people have helped give this good friend to Max."