Nicholas Stay and Autism Assist Dog Remo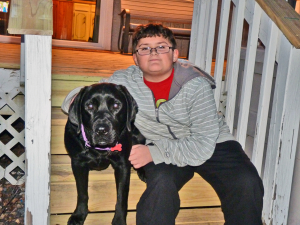 Melissa Stay of Brooklyn Park, Minn. is the mother of two boys: Payton, twelve, and Nicholas, ten. Three years ago, she sought help to better understand their youngest son, Nick, and what she thought were behavioral problems. What she found, however, was that Nick was autistic and processed the world and the people around him differently than most.
Nick's diagnosis does not limit his intelligence; rather, it limits his ability to cope with his surroundings and process change. For instance, when Nick is in public and caught off guard by a loud noise, touch, or even an unexpected change to schedule, he can have a difficult time. When experiencing these frustrations, Nick will scream, hide, run away, or just shut down completely. Nevertheless, Nick's family is committed to providing him with the tools he needs to cope with an ever-changing world.
Melissa first heard of Can Do Canines through a news story. An assistance dog sounded like a great possibility given Nick's history with dogs. The family had fostered many dogs in their home and one in particular had a special bond with Nick.
"His name was Buddy. He was half-blind and half-deaf," Melissa explains. "But he could go to Nick when he was frustrated and was able to calm him so that I could find out what the problem was."
Nick's family applied for an Autism Assist Dog to stop him when he bolts in public, calm him when he is feeling overwhelmed and be with him during outings that cause stress. They were on the waiting list for approximately three years, but finally, they were matched with Remo, a two-year-old black Labrador retriever. Remo's foster home volunteers describe him as a sweet boy who loves the work. But, he would also play fetch 24/7—if that were an option!
When asked what it's like now to have Remo in their home, Nick's mother explains, "He fits in perfectly. He is very calm and takes cues from our energy levels." She also says that it has been very special to see how Remo loves to be with Nick. "If Nick goes to the bathroom, Remo lays outside the door and if Nick hasn't gotten up yet in the morning, Remo will wait patiently until Nick is ready."
As for all the ways Melissa was hoping an assistance dog would help—Remo has exceeded expectations. Nick's bolting in public has decreased significantly, he calms down quicker and the outings that used to lead to meltdowns have become much less stressful.
Melissa says that Remo hasn't just been a gift to her son, but to her whole family. She explains that one day, Nick was at an after-school event and they had planned to go to Target afterwards. When it came time to pick Nick up from school, a storm had rolled in and there was heavy rain, thunder and lightning. Loud noises and flashing lights rank high on Nicholas' list of least favorite things.
"I was so scared about how I would even get my son into the car from school while dealing with the thunderstorm, so we brought Remo. I not only got him to the car OK, but we were even able to go to Target. Our clothes were all wet and Nicholas didn't even care, because Remo was there. It was no problem!"
When asked how Can Do Canines has impacted her family, Melissa explains, "The idea that I could just pick up and run to the store for something was unheard of a while ago. Now I can. If I run out of milk, I can actually run to the store and get milk!"
A renewed life of freedom and independence fills her heart with gratitude for everyone who helped bring Remo to their family.
"I would like to tell them that they have given hope. Hope that things can improve and that the things you thought you couldn't do, now you can."