A young man that zooms on the ice in full hockey gear is generally not what people would envision as an assistance dog handler. When the game is over though, Brady swaps his hockey stick for the leash on his trusted lifeline.
Brady was diagnosed with Type 1 diabetes at 11 years old. A few years ago, as he was planning to move away to college and live on his own, he and his family began to worry more about his safety. His family doctor recommended he look into a Diabetes Assist Dog from Can Do Canines, and in late 2020, Brady was paired with Olli.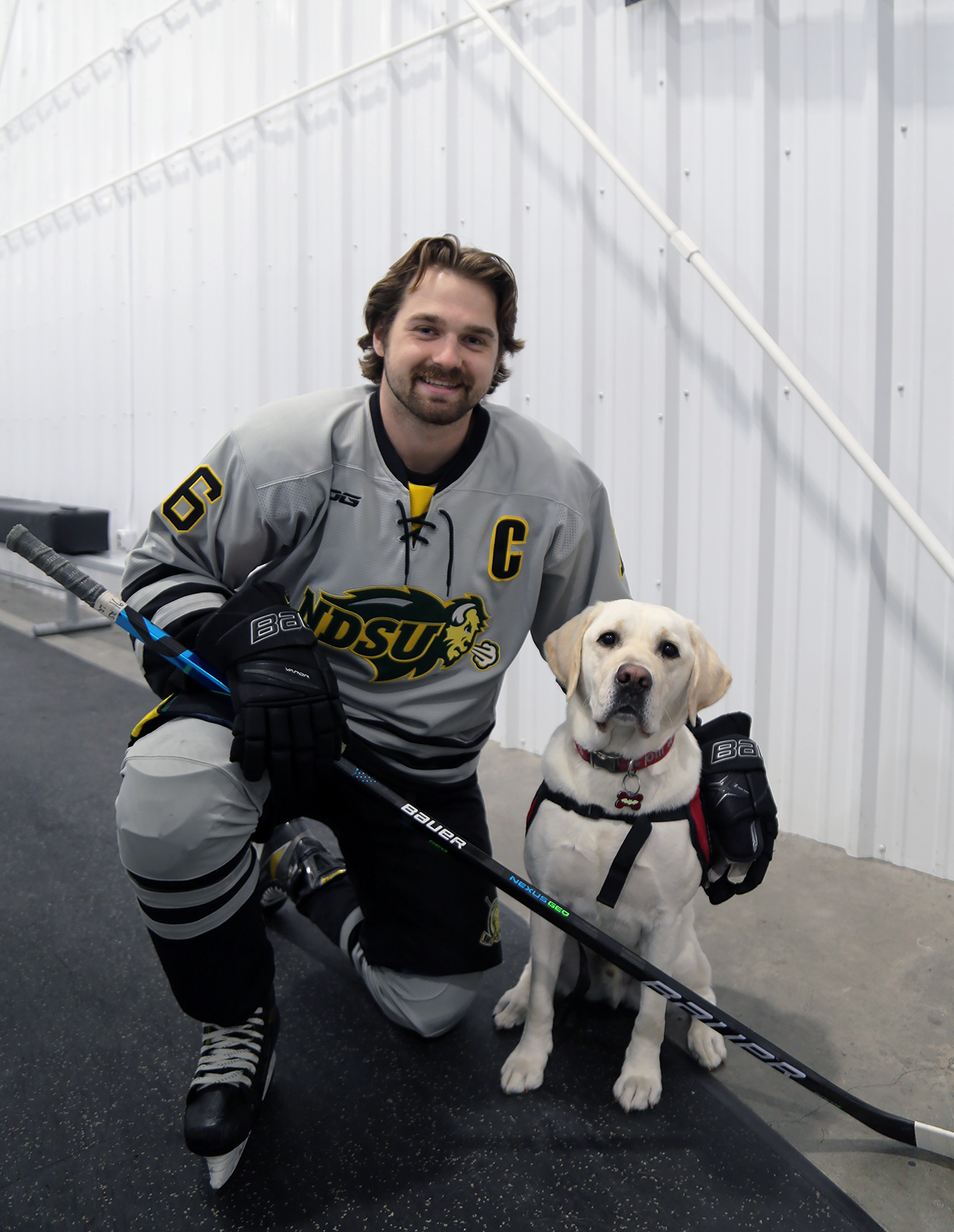 Olli, a yellow Labrador Retriever, can detect Brady's blood glucose dropping below a safe target range by smelling a change in Brady's body's chemicals. Olli responds to this scent by nudging Brady with his nose, sometimes to the extent of mimicking CPR. Brady can then verify his glucose level by having Olli retrieve his meter. If he is low and too dizzy to move, Olli gets a bottle of juice for Brady to correct his low.
There have already been several times when Olli, by his ability to detect dropping sugar levels, was able to prevent a dangerous low. Brady says, "Since getting Olli I have come to the conclusion that he is more reliable than my continuous glucose monitor, and he is always on top of being able to pick up low blood sugars before my pump is able to."
Brady is now in his third year attending school at North Dakota State University. He plans to graduate in Spring 2023, with a degree to teach physical education and/or health at the secondary level. During these three years in college, he has also been playing for NDSU's men's hockey team as a left wing (forward). He serves as captain not only of this team, but also of "Team Brady and Olli."
Plus, "Olli loves hockey!" says Brady. "He is my number one fan!" Though Olli always wants to be as close to a rink as he can get and enthusiastically wags his tail to prove it, Brady has never taken him on the ice due to safety reasons. However, Brady shares that when he first got Olli, he went outside by himself to practice on a backyard pond. "I remember looking up at the living room window and there Olli was sitting and looking out at me skating."
Brady adds that inside the safety of their home, the two of them "always play keep away in the basement, or I will shoot the ball/puck down at the net and he goes and picks it up."
At school, Olli travels with the team for their away games. On those trips, as well as during some practices, Olli stays in his kennel in the locker room while Brady plays. Then, when Brady goes into the locker room for intermissions, Olli unleashes his best skill, sniffing Brady to make sure his blood sugar isn't too low. Brady says that his teammates and his roommate are very good with interactions with Olli. "They all know that when Olli is at the rink with me that they aren't allowed to pet him or interact with him a lot. When Olli has his cape on, he knows it's work time and so do [they]."
Similarly, Brady's parents, who recently began fostering dogs for Can Do Canines, express their thanks and awe for Olli, saying, "Seeing what these dogs can do and what they offer blows us away! Witnessing this incredible bond between Brady and Olli makes us feel at ease knowing there is someone there to help Brady with this horrible disease. We count our blessings every day that Brady was given this amazing gift."
As for Brady, there is nothing that will ever come between this young man and his dog. "Having him by my side at all times makes me feel more safe and comfortable during my everyday life. He is the smartest, most sweet, loyal and loving best friend I could ever ask for. His caring side of him is the most significant part of him and being there for me when my blood sugars are low and staying on/with me until it is treated. I am speechless whenever someone asks me how he has changed my life because he has done so much for me in the time that I have had him to this day. He hasn't changed my life for the better, he has changed my life for the BEST!"
And the freedom, peace of mind and independence that go with that are better than any hat trick.
Thank you to all those who made this partnership possible:
Great Start Home: Nancy Sue Edgar
Puppy Raiser: Federal Correctional Institution-Sandstone
Special Thanks: The Nervick family
Name-A-Puppy Donor: Linda Goddard
You: Thank you for your donations!