Living with profound hearing loss can be a stressful experience. Brenda, who recently received her second Can Do Canine, knows this well. "It was frustrating not knowing what was going on. My kids would yell at me to get my attention, or come up behind me and startle me," Brenda says. Going for walks, which she loves to do, can be nerve-wracking when cars come up behind her and catch her unaware.
Brenda tried compensating by wearing hearing aids and staying vigilant. It was exhausting. In 2004, she was employed at Lighthouse for the Blind, working with those who were deaf and/or blind. She had heard of Can Do Canines (then Hearing and Service Dogs of Minnesota) and finally made the decision to look further into getting a Hearing Assist Dog.
At the time, she had a pet dog named Rookie. A very alert and friendly Yorkie Poo/Spaniel mix, he showed great promise as a potential Hearing Assist Dog. Brenda applied for them both to become an owner-trained team. This meant that not only did Brenda have to apply, but Rookie did too. Both were accepted into the training program and the hard work began. Brenda and Rookie had to change their relationship from him being just a pet dog to a working assistance dog.
In 2004, they certified as a Hearing Assist Dog team, and Rookie faithfully alerted her to important sounds over the years until he passed in 2019.
Before losing Rookie, Brenda had already been thinking of what she would do without him and knew she would miss the safety she felt having a Hearing Assist Dog. So as Rookie grew older, she adopted Joule, a Shih Tzu, from a local shelter.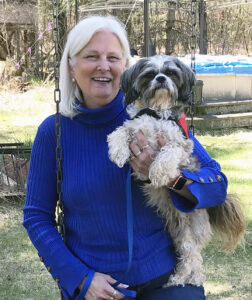 Brenda remarks, "Joule is fun and alert to her surroundings. And very smart. I have to be on my toes!" The first tasks were very basic but necessary. She encouraged Joule to make eye contact with her and taught her obedience and how to behave well in public places. These skills had to be solid before any skills training could begin.
Brenda and Joule were paired with field trainer Dora Schroeder. Together, they trained Joule to alert Brenda to the fire alarm, her alarm clock and someone calling Brenda's name. Brenda says Joule also alerts her to when her husband, Art, comes home.
"The second time around (training) was a little different," says Brenda. "Some of the training techniques had changed—for the better. The best part was having Joule connect with me and work together as a team."
As they practiced, trainer Dora was there to offer support. Brenda says, "Especially on the days when I wanted to pull my hair out in frustration, Dora would encourage me. 'It will be fine. Let's try it another way,' she'd say. And it worked!"
Brenda was very pleased to see Joule's enthusiasm to learn, accomplish tasks and respond to praise. "She is definitely in a different mode when working on skills and is excited to work!" Now that Joule is a working dog, she seems more confident, and Brenda feels she can rely on her to keep her safe.
When visiting the Can Do Canines campus for an appointment, Brenda was very impressed watching the staff with the dogs at their final stages of training. "I didn't realize all the work that's invested with getting and training a dog." Perhaps that's why she wishes to share this message with Can Do Canines donors and other supporters: "Thank you. It's awesome that for people who depend on a service dog, you're changing their life, and in some cases, saving a life."