As a dog lover growing up in Minnesota, Jen Gravrok wanted to be a veterinarian. While studying at the University of Wisconsin-Superior, her fascination with animal behavior—especially dogs'— surpassed that original interest. Jen recalls that as she was completing her undergraduate degree, she wanted to learn more. "I applied to study anthrozoology (human-animal interaction) with a professor who specialized in dog-human interaction. This professor was able to get me a full scholarship to study with her in Australia, so I packed my bags and moved down under for four years while I completed my Ph.D. under her supervision."
During that time, Jen was approached to do a project with Guide Dogs Victoria about the effects guide dogs could have on kids—an underrepresented population. She says, "While researching guide dogs, and assistance dogs in general, I found that the literature was full of good stories about the benefits that assistance dogs bring. However, the challenges that handlers face when working with an assistance dog were not well reported."
Jen began to study the experiences that first-time handlers face during their initial year with an assistance dog. Working with several assistance dog organizations throughout Australia and handlers with various disabilities, she gained invaluable knowledge and published multiple scientific papers.
Upon receiving her Ph.D. in December 2019 and moving back to the U.S., Jen checked to see if Can Do Canines was hiring. She had been aware of our organization since high school and says she had aspired to work here since college. With no position available at that time, she took one at a North Carolina assistance dog organization, Eyes Ears Nose and Paws (EENP), as a Client Services Specialist.
A Can Do Canines Client Services Coordinator at that time, Sarah Schaff, had previously interned at EENP, and the two women built a connection. When Sarah decided to return to her southern roots in 2021, Jen traveled the opposite way back to her home state after being hired to fill the open position.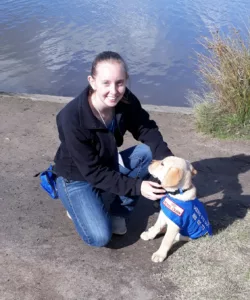 With over a year of service at Can Do Canines now, Jen is thoroughly enjoying her role. In addition to appreciating the problem-solving skills that her job calls for, she admits that a favorite aspect of her position is "seeing people's lives open up even more once they start working with a dog." She adds, "Throughout my Ph.D., I realized
that clients having realistic expectations of what their dog can and cannot do for them is incredibly important to their success as a team." Jen is excited that this position allows her to help set those expectations and ease the challenges.
We at Can Do Canines are thrilled to have Jen on staff and know that her enthusiasm and expertise are beneficial to clients and all the lives she touches.