"Let's talk about what's possible," is the current slogan for Best Buy. So it was only fitting when Best Buy employee and long-time Can Do Canines volunteer Rebeca Sharpe approached us in Spring 2022 to talk about the possibility of a new program for fostering dogs.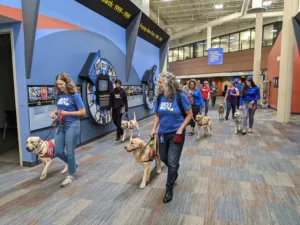 Rebeca is a member of Best Buy's disABILITIES Employee Resource Group, which was discussing having more assistance animals in training at their corporate headquarters in Richfield. She was already bringing Can Do Canine dog-in-training Waylon with her to work and recalls thinking, "What if we expand that idea and create a partnership with Can Do Canines to create employee/foster dog pairs of future assistance dogs in training?" She raised the idea with Can Do Canines staff members who were thrilled with the concept. After a few exciting meetings, "The Pups At Work (PAW) Program was born … or whelped in this case," Rebeca says.
In July, eight Best Buy employees were matched with dogs about 1 year old. These employees made a four-to-six-month commitment, with the option to renew the foster agreement if desired.
Puppy Program Instructor Lindy Luopa leads the PAW Program, conducting monthly classes on-site at Best Buy's campus, making training especially convenient. Lindy adds, "Participants are also welcome to attend our standard group training sessions, outings, and one-on-one opportunities."
Having assistance dogs in a corporate setting is proving to be valuable for the dogs. Lindy explains, "They have the opportunity to encounter large groups of people, elevator rides, visits to the cafeteria, loud noises, quiet work time, and children (Best Buy has a childcare facility on-site). Training in a corporate setting provides an outing experience with the added benefit of being able to retreat to a cubicle or office when rest and recovery are needed."
PAW Program participant Wyatt Widmer notes an emotional side effect his Can Do Canine seems to be enjoying. "My current and first foster, Braven, has a huge crush on my boss who sits in a cube kitty-corner to mine. He spends most days curled up (not on his mat) and staring at her for hours!"
The advantages of the program extend beyond the dogs. Lindy says, "Participants have met and formed connections with co-workers who they may not have otherwise had a reason to communicate with. This has allowed them to strategize and cross-connect in a way that was not previously available. PAW Program participants have a built-in support network; they share their victories, challenges, (and adorable pictures and stories) among their group."
Lindy confirms a hope that Rebeca had for the program as well, stating, "Maneuvering through a corporate environment with a dog allows participants to help identify areas where accessibility can be improved (location and ease of use of ramps, location of accessibility buttons/plates, access to outdoor resources, etc.)." Rebeca mentions that movement throughout the campus has its perks for her too. "Taking Waylon out for 'busy' time or short walks gets me up from my desk and moving around rather than sitting all day." She goes on to say, "People see us in the hallways and smile, say 'hi' to the dogs as they pass by, or just put their hand to their heart and say, 'Awww.' These dogs just spread joy wherever they go."
Wyatt experiences positive feelings himself, sharing, "I feel so moved and honored to be able to normalize service animals … It's education and a reminder that some disabilities aren't necessarily obvious or visible."
Looking ahead, Lindy says, "Our hope is to continue to grow the PAW Program and double or triple participation among the Best Buy staff members. We are in the process of identifying and training Pack Leaders who will function as on-site liaisons who can provide support as well as coordinate group outings and social gathering opportunities." Can Do Canines is also in conversation with other businesses that are interested in implementing a PAW Program. When asked what she would share with businesses considering this program, Rebeca says, "DO IT! It's such an easy program to implement and the benefits are far-reaching."
If you know a business that might want information about participating in our PAW Program, please have them reach out to our Puppy Program at puppyprogram@candocanines.org.