By Ian Hebeisen
When Shelly first learned about Can Do Canines, she did not realize how much of an impact the organization would have on her life. Yet 15 years later, she's not only worked for Can Do Canines, but received assistance dogs of her own.
Shelly lives with diabetes, fibromyalgia, and hypotension. Her blood pressure tends to drop suddenly, causing her to fall over. "I could be talking to you…and then five minutes later be on the ground," said Shelly. On more than one occasion, she hurt herself by falling at home, causing her family and friends to grow increasingly concerned.
Shelly used to stay at home for extended periods of time, afraid that a journey outside would result in a fall. "I didn't feel safe going out by myself. I found myself not getting out as much as I used to." Shelly would walk around, constantly stabilizing herself with a wall or a piece of furniture.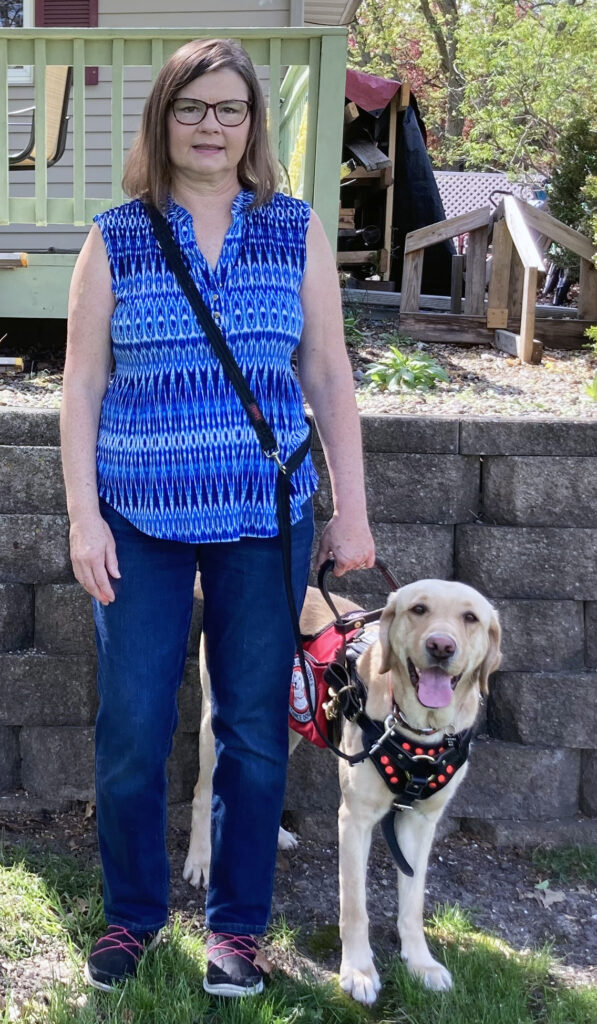 Levi the Rock
For thirteen and a half years, Shelly lived with a Diabetes Assist Dog named Grace, which helped monitor Shelly's blood sugar. But now, Shelly's greatest challenge is her stability and mobility. "The most important thing when I got Grace was handling the low blood sugar," said Shelly, "The biggest danger right now is the falling."
Shelly reapplied for an assistance dog with Can Do Canines, and got paired with Mobility Assist Dog Levi. When Shelly first met Levi, she couldn't help but notice how sweet and mellow he behaved. "While he had a wonderful play drive, he was just so gentle. I fell in love with him right at the beginning!"
Levi helps Shelly maintain stability. If Shelly begins teetering from a sudden drop in blood pressure, Levi plants himself so that Shelly can reassert her balance. Levi proved to be quite beneficial to Shelly's mobility. "I don't have to take smaller steps anymore. There's just a bit of counterbalance that Levi provides that enabled me to return to a normal stride."
While Levi settled into his new home quickly, Shelly experienced more of a transition. Having previously been paired with a Diabetes Assist Dog, she needed to adjust to new commands and equipment. "It was a big difference using a harness rather than just a leash. I had different words than he did, but we worked all that out," said Shelly.
In addition to providing stability, Levi also picks up dropped objects, moves baskets, and retrieves emergency medical equipment in bags. He also provides Shelly with affection. "He's getting to be more cuddly. I was sitting on the floor, and he laid between my legs and fell asleep. He's so in tune with what I need and where I am, that I always feel safer when he's around."
What Can Do Canines Does
Shelly would like to thank all the trainers, donors, and volunteers that work to make Can Do Canines possible. "I am so grateful for all of the people that helped Levi get here. There are a lot of other organizations that don't do nearly as good a job . . . and because of the great donors, [Can Do Canines] is able to turn around and give the dogs to us free of charge. And that is an amazing gift to this world."
Levi and Shelly were brought together thanks to the many volunteers and donors at Can Do Canines. With these connections, more stories like this are possible.
Thank you to all those who made this partnership possible:
Great Start Home: Katie Cormier
Puppy Raiser: Federal Correctional Institution-Waseca
Special Thanks: Mitch & Wendy Peterson, The Mach family, The FETCH program
You: Thank you for your donations!