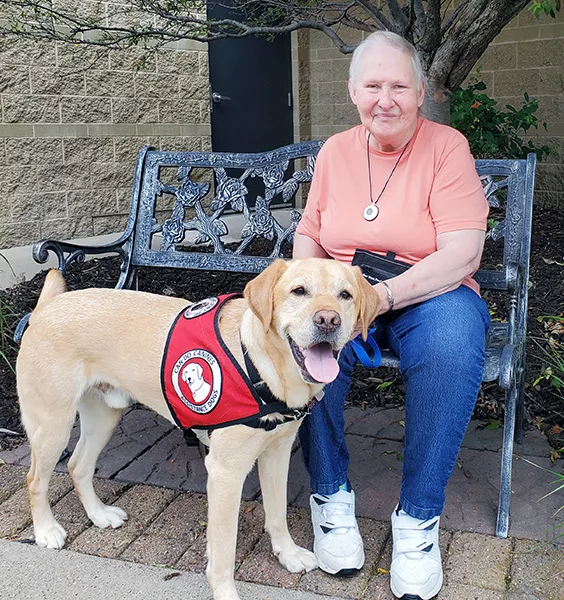 Three-year-old yellow Lab Tommy was nearly offered a job while at Walmart with his human partner, Pat, when the two of them were shopping there after being certified. Pat explained that a worker saw Tommy picking up an item that Pat had dropped and said they could employ him to collect all the merchandise that falls on the floor throughout the store. 
Pat is not about to share her precious teammate, though. "My whole life I think has changed when he moved in or even when I knew I was going to get him," she says. Plus, Tommy is plenty happy working for Pat. 
Pat, who has cerebral palsy, was inspired to reach out to Can Do Canines after hearing about our organization from a volunteer. She knew she needed help, remembering, "I was struggling to do things. I'd be so out of breath. I was just so tired and I was hurting."
Falling was one of her biggest concerns. Once she took a bad stumble at a gas station. She says, "I tripped over my own feet and hit the counter and ended up bleeding like crazy." Her head wound resulted in a concussion and several days in the hospital. 
Now with Mobility Assist Dog Tommy, Pat hopes that those types of accidents are in her past. Her happy helper is eager to retrieve her walker, cane, purse, and other items and press access buttons for her. "He's so helpful. It's like he can read my mind. He's just wonderful," Pat affirms. 
Recently, Pat experienced an unexpected spell of being lightheaded and shaky. She had Tommy get her walker so she could get to a bed to lie down. Tommy joined her and rested his head on her stomach. Pat notes, "He knew I was going through something and he didn't know what, but he was there to comfort me. And I think it was then that I realized how special these dogs are."
With her special dog, Pat hopes to be able to travel more and spend more time with friends and family. For this newfound feeling of independence, she gets teary-eyed thinking of those who played any part in this life transformation. She says, "I'm so grateful for Tommy and for everyone that helped me and helps everyone. Really, all of you are angels … I don't think any words can describe it. He's just brought so much happiness."
Thank you to all those who made this partnership possible:
Puppy Raiser — The Holleruds
Name-A-Puppy Donor — Kirsten Hahn