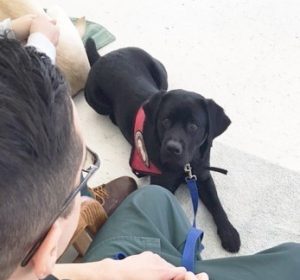 "Ezra, come!" I call loudly towards a tangled knot of Labrador puppies playing at the far end of the field. Before the last syllable is even out of my mouth, one puppy spins on his hind legs, disentangling himself from all of the fun that a dog pile offers, and trots in my direction. Seeing the floppy ears, that adorable little face and those expectant eyes scamper towards me always fills me with joy. But at this moment joy takes a back seat to pride and excitement.
We have worked so hard to get to this point. Ezra arrives at my feet, drops his bottom into a tight sit and stares up at me. "Yes!" I say, "What a good boy!" I tell him as I reach into my pocket for a high-value treat. Ezra is just over one year old, he is sixty-one pounds, a black Labrador retriever, and most importantly, an assistance dog-in-training. I am just over forty-four years old, one hundred and let's say fifty-five pounds, a mutt of primarily Mexican and German origin, and most importantly (to some), a lifer in state prison.
Our paths crossed thanks to the partnership between Jackson Correctional Institution (JCI), a medium security prison in the Wisconsin Department of Corrections, housing prisoners since 1996, and Can Do Canines, a 501(c)(3) non-profit organization based in Minnesota providing assistance dogs to people in need since 1989. Together, this seemingly unlikely pair started the Prisoners Assisting With Service Dogs (PAWS) program at JCI in the spring of 2017. Over the years I'd read about dog programs in prisons with great interest yet never imagined that such a program would be offered in any prison where I was housed or that I would somehow manage to finagle my way in if it was. Nonetheless, as soon as a notice was posted in the prison, I immediately submitted an application to participate with the inaugural litter of puppies. With decade's worth of institutionalized disappointment as my guide, I expected only denial. But, miraculously, I was chosen as one of the first twenty handlers. We were all moved to a new housing unit in preparation for the ten puppies arriving at JCI.
"Ezra, side" I say, and he pivots sharply into position on my right side. "Okay, let's go", and we begin walking together through the weed-littered outfield of the prison's softball diamond. Even without a leash Ezra stays by my side and looks up at me every few steps. "Yes", I tell him and stop to give him a chance to chew the kibble he's earned for this attentive walking. "Okay, go play". I release him and Ez peels off back towards the puppy mayhem still swirling fifty yards away.
Ezra is my second dog since joining the program. Paige was the first, but she and her littermates have now all "paroled" out of JCI. Some are still on track to become assistance dogs, others reassigned for reasons of temperament or testing. We've been told that roughly sixty percent of dogs-in-training actually qualify for a life of service and our small slice of anecdotal evidence supports those figures. That first batch of dogs was very challenging. While some of that may have been due to that litter's particular excitability, the inexperience of our handlers combined with all of the obstacles that can be expected of any new venture played a major role. Establishing routines, rules, norms and order for a group of twenty convicts suddenly living and training together was challenging enough. Throw in ten hyper, hungry puppies and the difficulty raises exponentially. But regardless of any distractions or drama ever surrounding the program, my time spent with Paige was extraordinary and momentous.
I was sentenced to prison in January of 1996 and started the PAWS program in May of 2017. Sandwiched between those two dates were twenty-one years of mostly misery and sorrow spent in maximum security facilities where love and happiness are just as rare as fresh air and sunlight. The only dogs I ever saw were intimidating K9 units aggressively sniffing out contraband while I looked on, often in my underwear and appropriately nervous. Within minutes of meeting Paige, I remembered what the unconditional love that a puppy brings to your life felt like. I was smiling, laughing and experiencing pure joy. This emotion was so rare throughout my incarceration that I could count the instances on one hand. Now, thanks to the PAWS program I had a source of joy on the other end of a leash. There were times in those first few weeks where I could physically feel stress or anger wash away from me when I held Paige in my arms or just pet her goofy little head. My body language changed, my guard was lowered a bit and my days in prison became my days with Paige.
"Ezra, leave it!" I call, watching as a couple of the dogs have found something interesting to bury their noses in near the bleachers. The desired response is for Ezra to ignore whatever stinky, slimy or tasty morsel he is captivated by and, preferably, check in with me. The current morsel must be of exceptional vintage because Ez is blowing me off. Perhaps emboldened by his littermates or succumbing to peer pressure, he sneaks a glance at me and goes right on snuffling. In a practiced tone, I let out a sharp, but non-threatening, "Hey!" and Ezra, looking sufficiently chastised, pulls his face from the dirt. He jogs over to me unenthusiastically. As we walk away from the scene, I put on his leash and employ my disappointed voice, "Ezra, you gotta leave it, buddy. Yeah, when I say 'leave it' you gotta leave it, bud. You know that." We walk in silence for a few moments, but then, to let him know that I hold no grudges, within two minutes I am praising him for a good heel.
It wasn't all sunshine and rainbows with Paige or with any of the dogs I've helped to train. Learning the art of Positive Reinforcement training on the fly, in a group setting, with a puppy who is constantly probing the limits of acceptable behavior, can be overwhelming. I've seen frazzled nerves and damaged egos.
I've seen a convict shed tears after a too long and particularly unsuccessful training effort. I have been humbled by placing too-high expectations on an undertrained puppy. When frustrated with a dog, many people's tendencies lean towards punishment and while I bristle at doing these animals any harm, it took a great deal of patience and trust in the process for me to be convinced of its superiority. Seeing a dog respond to Positive Reinforcement and watching a puppy mature in to a well-behaved, attentive and engaged animal who has learned to communicate with you and to interact with the world through you is a convincing argument. The enormous benefits earned by an animal who has been trained to operate in our world are obvious, but the effect that this program can have on the handlers is equally powerful. Some in the program seem content with the companionship that a dog affords them. Yes, having a dog in prison is wonderful, fun and makes the time go by much faster, but not to fully commit to the training and experience its rewards seems like such a wasted opportunity. Among the handlers that I've spoken with who share this view there are some common accounts. Immersing oneself in a new system, learning its unique language and studying its applications appeals to the technical learners in our group. In fact, some of them have plans to pursue careers in dog training upon their release.
Nurturing a young life and practicing patience and kindness have been cited as the greatest benefits by other handlers whose paternal instincts may not have been as sharp before their participation in the program, but who believe that they are now better equipped to raise their own children once given that chance. These are no small matters and certainly dramatic considering the short amount of time this program has existed. When I look at the PAWS program I see a rare thing in our world; an endeavor that benefits everyone involved at every level and harms none. In fact, I see all of the efforts of Can Do Canines spreading only ripples of positivity. The dogs are loved, trained and live rich lives. The volunteers, from start to finish, better themselves in the service of others. And ultimately, the person in need who is given a wonderfully trained dog will be forever changed and grateful. Which is how I would describe the program's effect on my own life: I am changed and grateful.
"Ezra, button", I say outside of our cell and Ez rears up on hind legs and forcefully nudges the handicap symbol on the wall next to our door. "Yes!" I say and reward him. "What a good boy." He sits as I open the door. He waits as I take off his leash. He enters when I say "In". All of these behaviors take patience and time to train, but I enjoy every moment of it and remind myself daily not to take this experience for granted. I sit on the floor and Ezra walks over, turns a little circle and plops down in my lap. I didn't train him to do that, but it's my favorite thing he's done all day. "Thank you, buddy", I tell him as he drifts off to sleep.
Our prison programs and the life-changing assistance dogs that they train are only possible because of your support. Please consider donating to Can Do Canines today.