Jennifer Torres and Mobility Assist Dog Buzz
by Susan Byers
Jennifer Torres and her Mobility Assist Dog Buzz have quite a lot in common. They have both spent their lives, busy as bees, working in service to others.
Jennifer got her start in the service as a member of the U.S. Navy. But after 13 years, she retired due to Ménière's disease, a disorder of the inner ear that causes dizziness, imbalance, and some mild hearing loss.
Undaunted, Jennifer went on to serve as a registered nurse in the intensive care unit of a Twin Cities hospital. There, she sustained a back injury that rendered her unable to continue her work in patient care.
Once again, Jennifer found a way to leverage her strong work ethic and health care interest, now serving in the computerized registries department at the Minneapolis Heart Institute. But her back injury and imbalance issues due to Ménière's disease left her vulnerable to falls, particularly when bending over at home or work.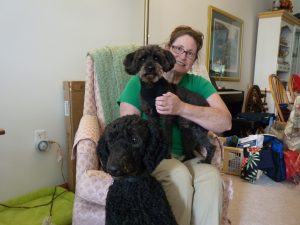 "I was falling more frequently and needed someone nearby to pick things up for me," she explained.
A friend put a bug in her ear, suggesting the possibility of an assistance dog from Can Do Canines. "She said her assistance dog, Phyllis, enabled her to do many of the things she used to do," Jennifer recalled.
It wasn't long before Jennifer gave Can Do Canines a buzz. And soon after, Can Do Canines called to say Jennifer would be matched with Buzz, a Black Standard Poodle.
Buzz helps Jennifer retrieve various dropped items. "When I drop things—my pencil, my computer mouse, my billfold, my cane—he picks them up for me, which keeps me from falling," she said. "I feel safer at home, steadier at work, plus I'm able to get out more for walks."
Teddy, her miniature schnauzer, and Buzz have become fast friends. Jennifer says Teddy thinks Buzz is the bee's knees. "Teddy runs after Buzz—and under Buzz—to get him to play," she chuckled.
But when Jennifer is in need, Buzz makes a bee-line to assist her. "He's extremely attentive, always checking to see where I am and what I might need," she remarked.
Jennifer is grateful for the trainers, volunteers, and donors that brought Buzz and his amazing talents into her life. Their generosity also took the sting out of the cost that would have otherwise been out of reach.
So, for those who wonder how an assistance dog can make a significant difference in someone's life, just look what happened when we gave Jennifer a "Buzz"!
Thank you to all those who made this partnership possible:
Puppy Raiser: Pat and Dee Dee Heffernan
Special Thanks: Federal Correctional Institution Sandstone
Name-A-Puppy Donor: Rory and Carol Boucha and The Bruning Foundation
Dog Donor: Tes Ingebritson
You: Thank you for your donations!