By: Sarah Lennander
As Ann was getting older and the effects of her disabilities were compounding, she was at a crossroads. "I felt like I was headed towards being unable to live by myself anymore," she explains.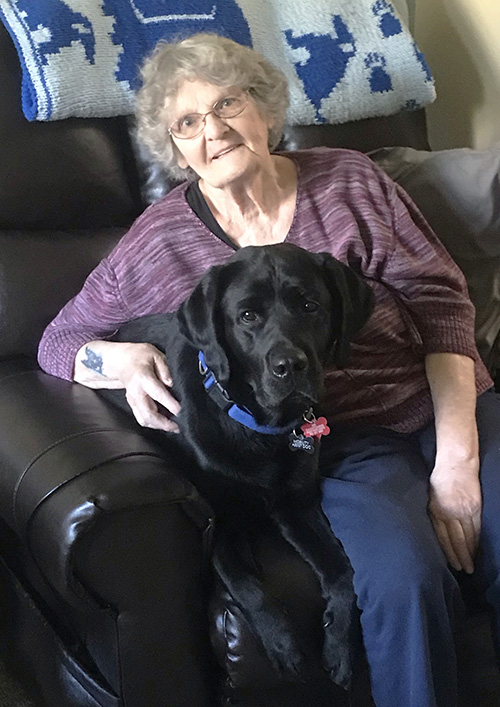 Enter, Mobility Assist Dog Frasier. Or as Ann calls him, "Frasier the Wonder Dog."
Standing tall on four legs and weighing in at 66 pounds, the black Labrador Retriever isn't what most people initially imagine when they think of a superhero. In fact, Ann remembered her first impression of Frasier, saying, "I was kind of surprised at how little he was!" But having once run a Great Dane rescue, most dogs look small to Ann.
Don't let his looks fool you though. He's saved the day for Ann on more than one occasion.
"The most touching … and impressive thing that he has done is when I fell and broke my leg. It was out in the snow on the ice. And he was at the end of his leash doing his business and I called him and he ran right over and laid down next to me in the snow. And that was unbelievable," Ann sniffs.
Trained as a Mobility Assist Dog, Frasier has a job of helping Ann with day-to-day living so she can remain independent and live on her own.
"I have joint and bone diseases that are causing degeneration. I stagger oftentimes. I trip. I fall sometimes. If I bend over to pick something up I oftentimes continue going straight down," Ann laughs. "And then I try to get up and that's even harder."
Frasier helps Ann work around the effects of her disabilities by picking up items so Ann doesn't need to bend over, retrieving her walker so she doesn't lose her balance without it, and acting as a brace that she can use to get herself up if she does happen to fall.
"I don't have to bend over to pick anything up anymore. He does the laundry … he hands me each piece so I don't have to bend over, I can just put it in the washer," Ann explains. "He wants to please. That's very important to him. And he's happiest when he's working. The tail goes like crazy when he's working!"
Before Frasier moved in, Ann had to work around her challenges in other ways. "I had been known to crawl or drag myself across the floor to get to a piece of furniture to get up. And the knee replacement didn't help that at all," she says. "You just work around things as best you can."
But with Frasier the Wonder Dog, life looks a lot different. "It's wonderful," Ann says. "I'm really looking forward to when we can get out, do a lot of walking, go places, just be out in the world again."
Because she broke her leg over the winter, and because of the COVID-19 pandemic, Ann and Frasier haven't been able to explore as much as she'd like. But she's already thinking of the days when they can get out and about. "I've got things in the back of my mind. I was kind of hoping he might want to go to the lavender fields in Northern Wisconsin," Ann shares.
With Frasier by her side, she's ready to get back to her life. "I just feel confident that he's gonna be there and support me, take care of me."
Ann is eternally grateful for the efforts of volunteers, donors, and staff in bringing Frasier to her. "Thank you isn't enough. What they've done with these dogs is utterly amazing, and I have worked with dogs for 40 years," she says. "[Can Do Canines is] a cause to be supported. It definitely is. Your donation is well spent."
Can Do Canines relies on dog lovers in the community to raise superheroes like Frasier. They're trained to come to the rescue for people with hearing loss, diabetes, seizure disorders, mobility challenges, and children with autism. If you'd like to help raise a superhero-in-training, visit www.candocanines.org/volunteer to learn more.
Thank you to all those who made this partnership possible:
Great Start Home: Colleen Etzbach
Puppy Raiser: Jackson Correctional Institution
Special Thanks: Lindsay Merkel, Nancy Huber
You: Thank you for your donations!