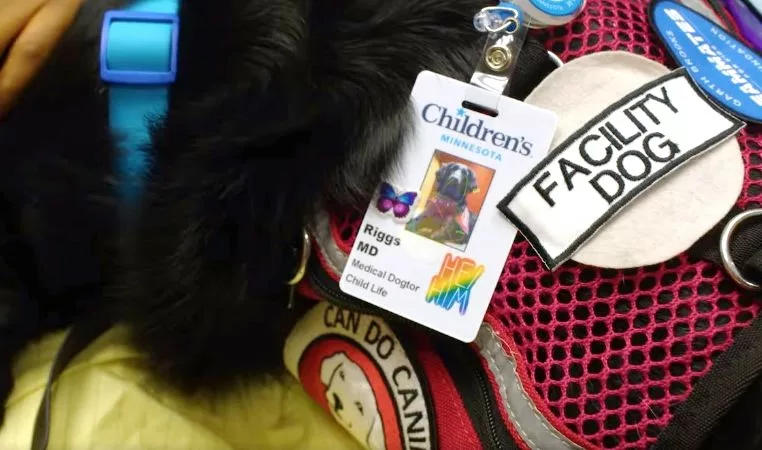 Annika and Krista, Child Life Specialists at Children's Hospital MN, explain that a hospital can be a scary environment—especially for kids. One of their new co-workers, Facility Dog Riggs—wearing his name badge "Riggs, MD: Medical Dogtor"—takes it all in stride though. Krista says, "The hospital is such an unpredictable place with different sounds and different patients, but he never fails to remain his steady self."
Annika and Krista began serving as Riggs' primary and secondary handlers, respectively, in mid-2023. With Annika, Riggs helps children on both a medical-surgical unit and the Center for the Treatment of Eating Disorders (CTED). Krista works with patients, from toddlers to young adults, in the Child Life Zone, where they can engage in play opportunities (sports, arts and crafts, technology activities, etc.). 
In his role on the "med-surg" unit, Riggs uses his calming presence to normalize difficult circumstances. One way is by encouraging post-surgical patients to walk. Krista explains, "A dog can be very motivating to get them up and moving. Taking Riggs for a walk makes it so much easier." He can also role-play hospital procedures. For instance, a girl with sensory issues was having a tough time taking medicine. But once she watched Riggs drink from a syringe, she responded, "Now it's my turn." Similarly, a boy experiencing a panic attack found relief through Riggs. This 10-year-old had been constantly pacing, and no humans—including his parents—were making progress with the situation. Annika brought in Riggs, had the two snuggle together, and prompted the boy to match the dog's breathing. "Riggs completely diffused the panic attack," says Annika. "I remember the boy looking at me and saying, 'I feel safe.' His parents said, 'We've never heard him say that.'" The boy later confirmed his reaction, proclaiming, "You know, Riggs actually works."
As part of his work with CTED, Riggs hangs out with patients in a special dining room. He helps foster the idea that eating is a community experience. Riggs has his own mat in the room, and when patients finish their meals, they are welcome to spend some time with him. Although he behaves like a perfect gentleman while in this room, he apparently drools like a waterfall when it's time for his own meals. One patient with an eating disorder watching him once joked, "Oh, someday I hope I can eat like you." Krista adds, "These patients can feel a lot of judgment, but Riggs never judges them. He's there, and they can come as they are and know that he's just a calming, encouraging presence for them."
Maybe that safe feeling is partly why patients adore Riggs so much. At the Child Life Zone, they love playing fetch with him and using his paw to make a clay print to take home. One girl made a bow tie for him out of felt, while another crafted a friendship bracelet that's still around his collar. Annika even senses that Riggs remembers kids he's seen before. "You can tell when he's meeting someone new versus "Hey, Friend."
Even one of their Somali co-workers has become a fan. Though never having touched a dog before, she petted Riggs and is now on a mission to tell others, "You've gotta touch this dog. He's amazing." Just through simple touches, Riggs is bridging cultural barriers. 
Recalling the uncertainty of making a Facility Dog Program a reality, Krista says of bringing Riggs on board, "He's really taught me to think about what is possible." These two women know that having this beautiful black Lab with them is only possible because of the people who put time, love, and patience into raising him. Annika says, "He just exudes all of the love that has clearly gone into him." "I hope they know that he is doing amazing work and that he is going to help the lives of so, so many patients," adds Krista.
As the father of the boy who had the panic attack shared with Annika, "Riggs falls somewhere between the medical and the magical."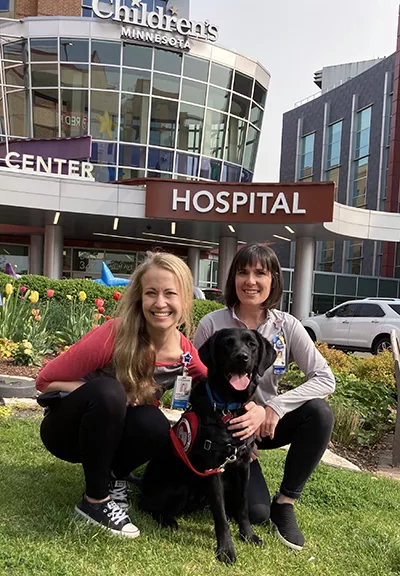 Thank you to all those who made this partnership possible:
Whelping Home — Rick and Patti Dougherty
Raisers — Laura and Mike Pierce
Special Thanks — Jackson Correctional Institution, Stanley Correctional Institution, University of Minnesota FETCH Program