Many young moms can relate to the sound of their children repeatedly calling, "Mom, Mom, Mom." Not Stephanie. 
Stephanie has relied on Can Do Canines assistance dogs—first Fred, and more recently, Casanova—for important sounds in her life.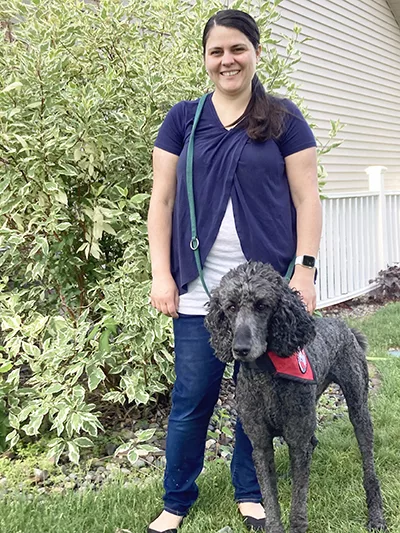 Becoming deaf at age 12 from meningitis, Stephanie uses cochlear implants, which only help to a certain extent. Stephanie explains, "The tone, volume, or duration of a sound can make it more likely or less likely for me to recognize them." Her distance from a sound is also a factor. She says, "I would often bake cookies and set the oven timer, only to walk out of hearing range (which isn't far for me) and forget about the cookies, leading to a terrible burned mess." Plus, without her cochlear implant on, she couldn't hear anything. "A firetruck could drive right past me with sirens blazing, and I would have no idea if my eyes were closed!"
She tried programmed flashing lights, bed shakers, and special baby monitors, but nothing seemed to work for her. Her husband sometimes even turned down work trips so Stephanie could avoid that anxiety.
Feeling insecure and overwhelmed and sensing her husband's frustration, Stephanie needed help. It was her own mom who "implanted" an answer. Stephanie heard about Can Do Canines from her mom, who was the president of her local Lions Club chapter. So Stephanie began as a volunteer with our organization and quickly realized a Hearing Assist Dog would be "a perfect fit."
That's exactly what Fred, a Standard Poodle, was. He faithfully served Stephanie until he suddenly passed away in 2019.
While having Fred, Stephanie and her husband started a family. Now, as a busy mom of three kids, she wondered about integrating a new dog into their mix. She questioned, "How will a dog fit within our busy life? And will the kids respect that he's a working dog?" Her concerns were "completely erased" when she met Casanova, another Standard Poodle, who blended beautifully into their family. Stephanie shares, "He knows I am his person, and although he's interested in the kids and my spouse, he always wants my attention, my affection first."
Yet, Casanova is part of their life as a whole. The group diligently practices the "Mom Game" when a child calls for Stephanie, and Casanova must alert her by nudging her. "My kids LOVE that he helps them get my attention! It's especially fun since it's a moving sound source—he has to find me and figure out where and which child is calling for me!" This smart and curious canine has even "mastered several toddler puzzles, despite not having any thumbs," remarks Stephanie.
A Hearing Assist Dog is not simply fun and games, though. Stephanie confirms, "Casanova does a great job at letting me know about environmental sounds." She remembers one night when he woke her up to bring her to her daughter, who was calling for her. "Without Casanova, she would have had to try to wake me up herself, which can be a brave task for a 4-year-old that doesn't like the dark." Stephanie says, "Casanova has given me my independence back and my confidence to care for my family. He fills in many of the gaps in my life."
"Beyond grateful" for the volunteers who helped raise and train Casanova, Stephanie applauds their "commitment to help people with disabilities—people like me—get a fair chance to live our lives in the best way possible. The work you do has a true impact on my life and the lives of so many others." 
Thank you to all those who made this partnership possible:
Raisers — Karen & Ray Larsen, Dyan Larson