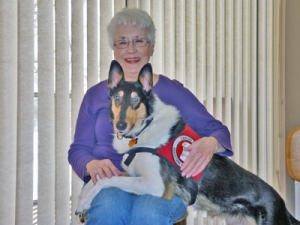 Judith Nybeck & Mobility Assist Dog Lilly 
Judy Nybeck of Maplewood, Minn. has been living with Parkinson's disease since 2010. Parkinson's, a progressive neurological disease, has been slowly taking away Judy's mobility, balance and sense of security. While she is still active, Judy realizes she is not capable of doing many of the things she once did.
"Parkinson's makes it so I can't do everything that I want to do, or even thought I could do," Judy says. "I have problems with my balance and picking things up, which I know are only going to get worse."
After attending a symposium on Parkinson's, Judy heard about Can Do Canines and realized an assistance dog might help alleviate many of the issues she was experiencing. When applying for a Mobility Assist Dog,
Judith wrote …
"At this point in my disease, a dog will help me maintain a level of confidence in walking, exercise, travel and everyday aspects of my life."
Enter Lilly!
Lilly, a two year old smooth-coat collie, was raised by a loving Puppy Raiser family, the Herrs. Familiar with the breed, they knew that collies, like Lilly, are agile, intelligent, and eager to please—which makes them excellent assistance dogs. The Herr family took special care to vary Lilly's upbringing with games of skill, obedience and retrieval which optimized her ability to focus and stay engaged. When Lilly came back to Can Do Canines for final training her skills were further refined and she was evaluated for which client she might work best with. Lilly turned out to be a perfect match for Judy!
Lilly is a "real charmer," says Judy. She is active, sweet, and has been a faithful companion. Lilly is able to pick up dropped items, turn the lights on and off, and tug open drawers and doors. Most importantly, she comes when called.  If Judy falls, that recall is important for her safety as Lilly is able to retrieve a cordless phone. On outings to the supermarket or other appointments, Judy feels confident and safe knowing Lilly is there to assist her if necessary. She explains that it becomes easy for people with Parkinson's and other mobility issues to become inactive and sedentary.
"Lilly gives me purpose and a reason to stay active," Judy says. Taking care of Lilly's needs helps keep her active and engaged each day. As balance becomes more of an issue in Judy's life she takes comfort in knowing that Lilly is always there.
"So far I haven't fallen or had any problems!" Judy says.
Judy has nothing but praise for the entire team of volunteers and donors at Can Do Canines. She realizes how much time, talent, dedication and funding it takes to train a Mobility Assist Dog.  It's made a huge difference in her life already.
As Judy explains, "the longer I can stay active, the longer I can keep Parkinson's from taking my mobility and independence."
Thank you to all those who made this partnership possible:
Puppy Raiser: The Herr Family
Dog Donated by: Amy Ross
Short & Long-term Foster Homes:  The Campbell Family; Ken & Holly Schultz; Judy & John Schwab; The Inmate Handlers at the Minnesota Correctional Facility at Faribault
Name-A-Puppy Donor:  The Branch Family