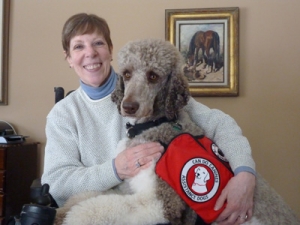 Lynn Teschendorf & Mobility Assist Dog Fritz
Lynn Teschendorf, of Edina, Minn., is a busy woman—a very busy woman. She works out with a personal trainer, performs in a bell choir, contributes to a book club and still finds time to go out with friends. She does all this in spite of living with multiple sclerosis for 27 years—the last 11 using a wheelchair.
Multiple sclerosis (MS) has caused severe limitations in her mobility, producing difficulty walking and a tendency to drop things.
"By the time I get up, get dressed, have breakfast, and feed three animals, it takes me about two and a half hours," Lynn says. "Half the day's gone, and I'm already exhausted."
Lynn realized she needed something to make her life easier—something to reduce her daily fatigue. In 2003, she worked with Can Do Canines to train Mikey, a high-spirited Pomeranian. Mikey started as Lynn's family pet, but was imbued with such a desire to help, that trainers were able to fine-tune his inherent skills. Lynn and Mikey become a certified Can Do Canines team and worked together for 11 years.
When Mikey died in 2014, Lynn had no doubt she would need another assistance dog to help her continue an active life. She mentioned to Can Do Canines that she would prefer a non-shedding dog if possible, despite the longer wait. A standard poodle named Fritz became available in the fall of 2014 and Lynn knew the time for her next assistance dog had arrived. She also knew having a standard poodle would be different, since Mikey was such a small dog, But what she didn't expect was 65 pound Fritz! A stark contrast to a little Pomeranian.
Lynn says of Fritz, "He's like a pony. He's just huge compared to my first dog. One paw pad is the size of Mikey's whole foot!"
To help alleviate her fatigue, Fritz helps with a variety of Lynn's mobility needs. He helps with dressing and undressing, getting her shoes in the morning and taking off her compression socks.
"It doesn't sound like much, but it's really hard working with those socks!" Lynn says.
When Lynn drops things, Fritz is there to pick them up. When she needs light, he turns them on for her. This is especially helpful in the winter.
"You leave at one o'clock, and when you come home four hours later, the house is pitch black," Lynn says. "With a wheelchair, you can just nick a wall and put a hole in it. So having a little light is great."
Fritz is a very well-behaved dog, a trait she attributes to his Puppy Raisers. "Whatever they did—he is so well trained," she observes. "He has such good manners. I can be cooking, there can be food on the counter or on my lap. He's always smelling and looking, but he never touches anything."
For the donors who may not have had any direct contact with Fritz, Lynn notes that their generosity was instrumental in bringing Fritz to her.
"It's like a miracle," says Lynn. "These dogs go through all the training, they've got to be so valuable. To just have the gift of this beautiful dog, but well trained, and sweet tempered, it's just amazing."
Thank you to all those who made this partnership possible:
Puppy Raiser: The Heffernan Family
Dog Donated by: Trinita Mestuzzi
Short & Long-term Foster Homes: Ellen Anderson; Melissa & Brian Hanson; Janis Stadler; The Inmate Handlers at the Federal Correctional Facility at Waseca
Name-A-Puppy Donor: Judith Christensen
Team Sponsor: Katherine Johnson