Staying active and independent is a goal for most adults, but for some, life's challenges can disrupt those goals. Like most young adults, Jack has big ambitions and works full time while making plans to return to school to further his education. A life with progressive hearing loss all has made that more difficult.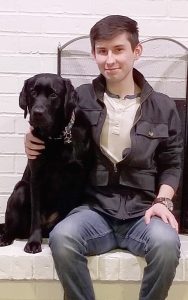 As an infant, Jack was diagnosed with mild hearing loss, but doctors were uncertain of the cause. He had a hard time finding the proper hearing equipment to improve his hearing, causing his hearing to further decline. Now he has profound hearing loss and is unable to hear most of the sounds around him. The most effective hearing aids he's been able to find only work in one ear.
While seeking options for more independence, Jack received a helpful recommendation. A friend who has been heavily involved with Can Do Canines advised him to apply for a Hearing Assist Dog. In just a few short months, he was matched with Polly, the missing piece he'd been hoping for.
A New Set of Soft, Fuzzy Ears
Polly is a 2-year-old Labrador that is always listening for the chance to help her person. She provides alerts for sounds in the world that help keep Jack safe. Previously, he would have relied on his family to let him know if there was a sound, an alarm or a timer that needed his attention. Now his family members feel secure in leaving him alone because Polly is always on alert to keep him safe.
Polly lets Jack know if a kitchen timer or his cell phone chime is going off by nudging her nose into his leg. Jack signals Polly to, "Show me," and Polly leads Jack to the source of the sound. Jack says, "I set alarms for cooking and laundry so that things don't sit for too long and I don't have to constantly watch the time."
Polly's ear's act for Jack's in other ways too. Before Polly, Jack wasn't able to hear people call his name, unintentionally ignoring them. Now Polly not only signals him, but also leads him to the person. If Jack drops an item on the ground and does not hear the sound of contact, Polly nudges his leg and returns to the item's location.
When Jack is able to achieve his goal of living on his own, it will be especially important that Polly is able to alert Jack to other sounds, including the smoke alarm. Sleeping without the assistance of his hearing aid, Jack would not be able to react to a life-saving alarm without Polly's assistance. Additionally, Jack's mother has been helping Polly practice how to let Jack know when someone knocks at the door.
Excited to Feel Self-Sufficient
Jack says that Polly's energy and happiness is infectious, and she's made an enormous impact on his quality of his life at home and at work. He says, "[Can Do Canines] is filled with the best people. I will be forever grateful for the people who brought up Polly and taught her all the things that she is able to help with. It is amazing that this work is all done as a non-profit, and I am blessed for the help you have provided."