Unexpected Changes
Melissa is an active young lady–attending college, traveling, and participating in a dedicated theater life. However, last year, she began experiencing alarming symptoms that caused serious health issues.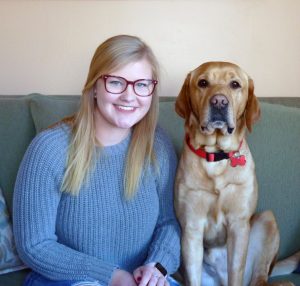 Doctors said her autonomic (involuntary) nervous system was being affected, specifically her blood flow regulation. She was diagnosed with postural orthostatic tachycardia syndrome (POTS). This means that Melissa's blood pressure will suddenly drop after she changes position, such as sitting to standing. She feels waves of intense fatigue and if she moves too quickly or overexerts herself, she can pass out. She has episodes where she is debilitatingly dizzy or unable to control her coordination, and this forced her to take a break from college. Learning to navigate life with a lot of new risks, Melissa was determined to regain as much independence as possible. She returned home after living abroad and found Can Do Canines. She chose to apply for the chance at living a more fulfilling and independent life.
Crush's New Job
Melissa was paired with Crush, a three-year-old Yellow Labrador Retriever that was always meant to do amazing things. Originally, Crush was originally part of Can Do Canines breeding program and sired litters of potential future assistance dogs. His exceptional temperament led trainers to expand his training. This decision paved the path that would lead him to Melissa. Now, Crush is able to help keep Melissa safe. Crush aids her by retrieving things from lower locations, since if she lowers her head too far, or changes positions too fast she can pass out. He also tugs open doors and helps Melissa remove her socks. Crush can help regulate and reduce the effects of Melissa's blood pressure changes by providing pressure therapy by laying across her legs while she's on the floor. He will stand still while she props her legs up on top of him, returning blood flow to where it should be. His statuesque position additionally acts as a brace for her to slowly and carefully get up from the floor when needed.
Melissa also lives with chronic spontaneous hives or swelling; an attack causes her to start itching without realizing the oncoming danger of further tissue swelling. Crush is trained to nudge her when she starts scratching, this draws attention to the allergic reaction and she can treat the issue with medication. She had her most serious attack yet while after taking him home, but he was able to alert her to the need for intervention; without that alert, her airway likely would have closed.
Melissa is so grateful for all that he does for her. "I have a lot more hope now," Melissa says of the potential for living on her own and going to grad school.
Looking Towards a Brighter Future
"It's been the best experience I've ever had, it feels like everything has completely changed. I'm more relaxed all the time. I'm not alone and he knows what to do to help," Melissa says on the placement and her new partnership. She also expresses her appreciation for the program, which places dogs at no cost, because it would not have been possible to cover the cost of an assistance dog, her school tuition, and medical bills. Melissa is very grateful for everyone who made Crush the wonder pup he is. She says, "Crush is the most amazing thing in my life… I really do feel like I've gotten part of my life back."
You can help more people living with disabilities by donating today at Can-Do-Canines.org/donate.
Special Thanks to
Puppy Raiser: FCI-Sandstone
Whelping Home: Dana and Pete Kittok
Great Start Home: Joe Chan
Special Thanks: Ciara Nervick, The Mach Family, Sue Edgar, the U of MN FETCH Program