About 10 years ago, Sue was working at Hennepin County Technical College when she overheard a student talking about her son's application for a Can Do Canines assistance dog. Sue looked up the organization, and from that day on, she has been a Can Do Canines supporter. 
Yet, it never occurred to her that she might need an assistance dog herself. Although she has had a hearing loss to a certain extent much of her life, she managed it. She originally didn't have much luck with hearing aids; instead, her husband notified her of important sounds.
When he passed away a couple of years ago, everything changed. Sue says, "My husband would tell me when the alarm went off, or the timer went off, or he'd answer the door if someone knocked because I didn't hear it. All of a sudden, I'm thrown into the fact that I'm not hearing any of these things."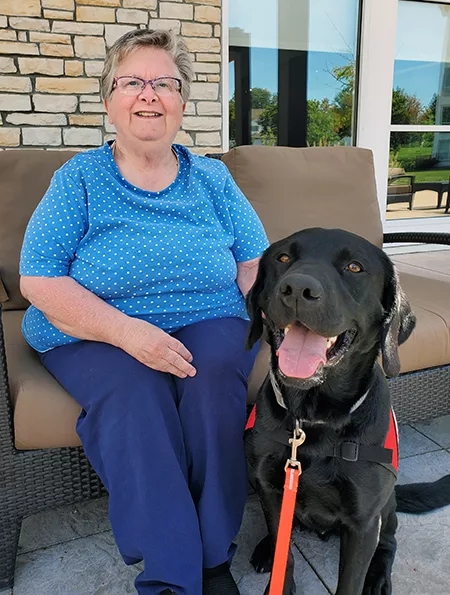 Now, having more success with hearing aids, Sue explains, "It does help, but it's still not great. You never will get back to 100% hearing." Soon, though, Sue received an extra set of ears with 100% hearing—those on a black Lab, Retriever mix dog named Kade.
Sue and Kade began training together at the Can Do Canines campus, and Sue recalls, "I'd tell everybody, 'Oh, I'm going to dog training,' and then later I said, 'No, it's not really dog training. They're training me. He already knows what to do.'"
After Kade moved in with Sue, she especially appreciated the continued in-home learning Client Services Coordinator Jen provided. "It was so comforting to know she would come, and I could ask specific questions that dealt with things here in my apartment and just with Kade and me."
Some of the hearing assistance Kade offers her relates to timers, phone calls, doorbells, fire alarms, and someone calling her name. Sue says, "I'm relieved that he's here to help me. He's going to hear those things. He'll let me know if someone's at the door." She adds, "I don't know how many things I burned before he came because I didn't hear the timer go off. My biggest thing is I'm more relaxed."
Sue is certain about Kade's future learning capability too. "If something would come up that I would need, like other timers and things, I feel confident that he would be able to help me with those things."
In fact, Kade is already overachieving. Although Sue applied for a dog to help with hearing tasks, she got mobility help to boot. In recent years, she has "inherited" arthritis in her hips and knees, affecting her walking ability. So Kade retrieves items for her, tugs her walker to her, activates push plates, and more. He's become particularly efficient at getting the two of them into the apartment after Sue takes him on walks using her scooter. "He's so smart. He figured out when we come back that if I open the door a little bit enough for him to slide through the opening, he comes in, goes around behind the door, grabs that rope, and opens it from the inside so that I can drive in. And he figured that out on his own. No one taught him how to do that."
Sue sums up that "Mr. Wigglebutt," as she calls Kade, "has a really big heart." With this in mind, she conveys, "I cannot give enough gratitude to every single person who has touched Kade's life before I got him. Every single one has had a wonderful influence on him. He so much wants to work and is so happy. Every one of those people, whether they be a volunteer, an inmate, a trainer, they obviously did really well with Kade to make him the wonderful dog he is now." 
Sue is now the person others are likely to overhear singing the praises of those who brought an assistance dog into her life.
Thank you to all those who made this partnership possible:
Whelping Home — The Nervick Family
Raisers — Darlene Blomberg-White, Jennifer Cook, Terri Schoenfelder
Special Thanks — Stanley Correctional Institution