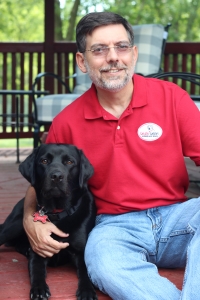 This past winter, Paul Chavez was at his house in Mequon, Wis. for at least 10 minutes washing dishes when his fiancé Cate came home to the sound of the sump pump alarm blasting loudly throughout the home. The pipes had frozen and Paul was completely unaware there was an alarm blaring. Their basement was flooding, soiling boxes filled with their possessions from their recent move.
Paul has been having difficulty with his hearing for 15 years. Unable to hear most doorbells, telephone rings and alarms, Paul resorted to wearing hearing aids with little benefit. Unfortunately, recently his hearing loss recently declined even further.
"This summer I had an allergic reaction that caused some additional damage," says Paul. "I lost quite a bit more hearing as a result of that."
A lifelong animal lover, Paul had already been considering adopting a pet dog. After some research online, the couple decided an assistance dog would be a perfect fit for their situation. Through Can Do Canines they were paired with Nina, a smart black Labrador retriever who would bring hope and an extra set of ears into their lives.
Paul only has natural hearing in his left ear and has trouble distinguishing sounds. So Hearing Assist Dog Nina stays by his side and alerts him to many things he is unable to hear. From dropped keys to the oven timer, Nina's duties go above and beyond monitoring smoke and sump pump alarms.
"She makes everything easy," explains Paul. "It's been a peace of mind knowing that the sounds I was missing out on—sirens, doorbells, the phone—that she'll tell me if there is something important going on around me. Not having to worry about setting the alarm clock, or not having to set it at ear blasting levels and wondering if I'm even going to hear it in the morning is a huge help."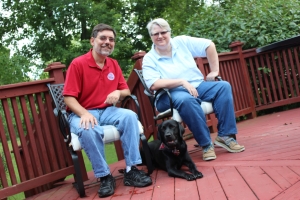 Nina has fit into the couple's life wonderfully. They joke that Nina serves as a "Cuddle Assist Dog" in addition to her hearing work. She's made friends with the couple's cats and has gone vacationing with them at a cabana. More importantly, she can tell Paul if Cate is calling him from another room.
Nina accompanies Paul to his job every day where he manages a computer communications company. She also goes to the grocery store and restaurants, alerting Paul if someone is trying to get his attention.
"We take her almost everywhere we go," the couple says, smiling as Nina snoozes next to them on the couch. "We're very thankful that we have Nina and for all of the effort that Can Do Canines has put into training her," reflects Paul.
Paul wants others living with hearing loos to learn about his special helper. He expresses a strong desire to help "get more dogs like her out there helping people that need them." Cate chimes in, "they change the quality of life for the people that have them."
Though they have been through so many difficulties in the past, Nina is helping them look forward. With his new-found peace of mind, Paul will always have his four-legged friend to lend an ear, or provide a snuggle when he needs it.
Thank you to all those who made this partnership possible:
Puppy Raiser: Susie Baker
Short & Long-term Foster Homes: The Ruppe Family, Judy & John Schwab, Stu & Linda Wicklund